NYK Puts First LNG-Fueled Panamax Bulker into Service as LNG Fleet Grows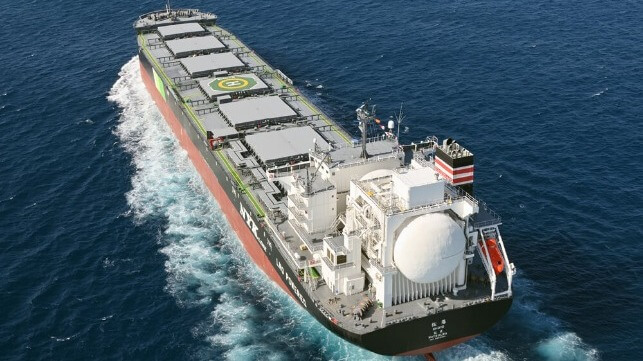 Japan's Nippon Yusen Kabushiki Kaisha (NYK) is placing the first LNG—fueled Panamax-class bulker into service as part of its commitment to continue the carrier's fuel transition. The vessel follows the introduction earlier this year of the first LNG-fueled bulkers, Newcastlemax vessels built in China for Eastern Pacific Shipping and Himalaya Shipping, and is another example of the rapid take-up by carriers of LNG-fueled vessels.
The vessel was named Shoyo during a ceremony in June held at the Koyagi Shipyard of Oshima Shipyard in Japan. After final outfitting, the vessel was delivered to enter service on October 2. The ship departed Tobata, Japan yesterday and is bound for Newcastle, Australia. She will now be transporting coal to Kyushu Electric Power Co.'s coal-fired power plants.
The Shoyo registered in Japan is 95,233 dwt. The vessel is 770 feet in length. Oshima Shipbuilding also reports that it has signed a contract with NYK Line for the construction of two additional LNG-fueled large coal carriers. Those two vessels are scheduled for completion in 2025.
NYK is also highlighting that the vessel also completed the first shore-to-ship bunkering for an ocean-going LNG-fueled vessel in Japan. This took place on October 12 at the port of Tobata. The ship is designed to be compatible with both shore-to-ship and ship-to-ship bunkering. Starting in March 2024, a newly built LNG-fueled bunkering vessel based in the Setouchi and Kyushu area will also be available to bunker the vessel.
She is the newest LNG-fueled ship in a segment that is rapidly expanding and has also included the introduction of crude oil tankers, containerships, and cruise ships. DNV's Alternative Fuel database calculates that there are currently 438 LNG-fueled ships in service in the worldwide fleet. According to DNV, the LNG-fueled fleet will double in the next five years to nearly 1,000 ships.
DNV reports worldwide there are now 38 LNG-fueled bulkers with another 35 currently on order. Finland's ESL Shipping took delivery on the first LNG-fueled bulkers in 2018, but they are smaller ships at 25,600 dwt. Himalaya Shipping took delivery on its first LNG-fueled Newcastlemax bulker in March following Eastern Paciifc's introduction of its first vessel in February. These vessels, which are each 209,000 dwt. Australian mining giant BHP chartered the Mt. Tourmaline from EPS for five years while Himalaya is also placing its vessels on charters. As of the end of August, Himalaya has taken delivery on six of a total of 12 LNG-fueled bulkers from New Times Shipbuilding.