South Brooklyn's Working Waterfront Attracts New Tenants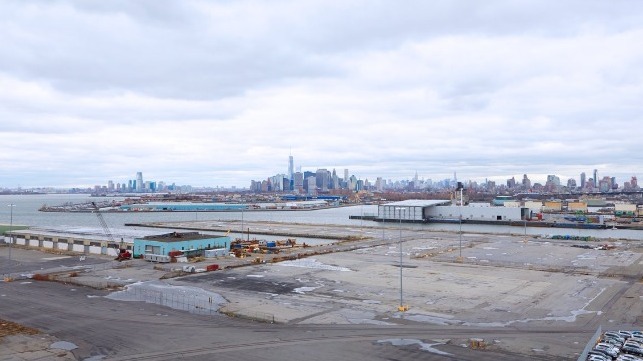 On Tuesday, the New York City Economic Development Company (NYCEDC) announced significant progress in its plan to reinvigorate the South Brooklyn Marine Terminal as a shipping hub. Red Hook Container Terminal and Industry City will operate the newly-renamed Sustainable South Brooklyn Marine Terminal (SSBMT), a cluster of maritime activity that will bring new industrial uses and 250 new jobs to the South Brooklyn waterfront.
SSBMT will reactivate 65 acres of the terminal and move over 900,000 tonnes of material annually, eliminating over 11,000 truck trips a year. New uses for the site will include waste paper recycling and export, import cargoes of lumber, salt, and aggregate material, container-on-barge operations and project cargo. Red Hook Container Terminal will serve as the terminal operator and stevedore for SSBMT.
"For too long, the South Brooklyn Marine Terminal has not lived up to its potential," said Mike Stamatis, president and CEO of Red Hook Container Terminal and designated operator of SSBMT. "Our partnership with Industry City and NYCEDC will transform the terminal into a vibrant cluster of industrial maritime activity over the coming decades. The reactivation of the Terminal will be a significant opportunity for the Sunset Park neighborhood, creating hundreds of new jobs at the site within the first 5 years, while also promoting the growth of green infrastructure in the city."
Stamatis says that SSBMT has two big advantages for project and breakbulk cargoes: ample warehousing and laydown space. Most of the other terminals in the region no longer have warehousing, but SSBMT has about 350,000 square feet of indoor space that can be used for distribution and storage, he says. In addition, Industry City, an adjacent warehouse, office and manufacturing complex, has over six million square feet of space for multiple business uses.
The laydown area at SSBMT is attractive for construction-related cargoes, and it would also be advantageous for offshore wind projects. According to NYCEDC, SSBMT has the potential to create over 1,000 additional jobs by serving as a fabrication hub for offshore wind farm developer Deepwater Wind. The firm has indicated its interest in establishing a major offshore wind hub on the Brooklyn waterfront to support its planned South Fork Wind Farm and other future projects.
In 2015, Mayor Bill de Blasio joined federal and local officials to commit to reactivating SSBMT as a working maritime port facility. The U.S. Maritime Administration and U.S. Department of Transportation have designated the site as part of America's Marine Highway System, which will make cargo operations in Southwest Brooklyn eligible for future federal support.
The City of New York has already invested over $115 million to modernize SSBMT, and over the long term, it is interested in the phased development of a deep water container port at the site. A new container terminal would add to the existing capacity at the Port of New York and New Jersey, the East Coast's largest container port complex. While this would mean stiff and well-established competition from the terminals in New Jersey, NYCEDC notes that SSBMT is the only marine terminal capable of handling ocean-going vessels, barges and rail on the east side of New York Harbor.