Norwegian's Smallest New "Cruise Ships" are Incat Catamarans
Norwegian Cruise Line has launched three new vessels, but instead of being the luxury cruise ships building at Fincantieri, they will be the cruise line's smallest new ships. They are three tenders each measuring 82 feet and designed by Incat Crowther. The naval architects said it highlights the flexibility of their well-developed catamaran design.
The vessels with the unglamorous names of GSC 1, GSC 2, and GSC 3, are each able to carry up to 352 passengers transporting them between the company's cruise ships and its private island beach facility on Great Stirrup Cay in the central Bahamas' Berry Islands. Because of the exposed position in the ocean where the cruise ships anchor, Incat highlights that the catamaran and deep hull design (nearly 6 feet) help to provide maximum comfort for passengers during the shuttle ride back and forth to the island.
Norwegian Cruise Line introduced the concept of the private island port-of-call 46 years ago, which became a popular destination. All the other major cruise lines later duplicated the concept with their private destinations, including several on neighboring Bahama islands.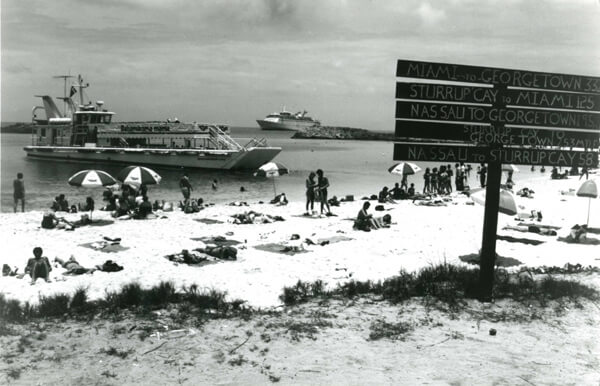 Passengers went ashore in two WWII surplus landing craft starting in the late 1970s (Allan Jordan collection)
The tenders however are vastly improved over the years. Industry executive Bruce Nierenberg, an NCL marketing executive when the Bahamas destination was launched, recalls on the first cruise, they used open-air lifeboats and wadded ashore. NCL, however, found two WWII surplus landing crafts which were rebuilt as christened Bahamarama Mama 1 and 2. Newer vessels followed, and two specially designed tenders built for the cruise ship Norway in 1980, Little Norway 1 and 2, were transferred to the island after the cruise ship was retired in 2003.
Passengers today no longer wade ashore from the bow ramps. Instead, Incat reports the design of each vessel was optimized with main deck ramps that interface with the existing tender docks on the island. There are also two embarkation/disembarkation points on the upper deck.
The new tenders were built by Singapore's Penguin Shipyard International and are now in service at the private island in the Bahamas. They are registered in the Bahamas and provide two levels for passengers including space for 188 people on the upper deck with covered open-air seating. On the lower deck, they are introducing a new level of comfort, including air conditioning and seating for 164 passengers. Each tender has three toilets, one of which is wheelchair accessible. Incat highlights that each vessel also has two wheelchair-accessible spaces on the main deck as well as a lift to provide wheelchair access to the upper deck. Accessibility they reported was a key design feature for the new tenders.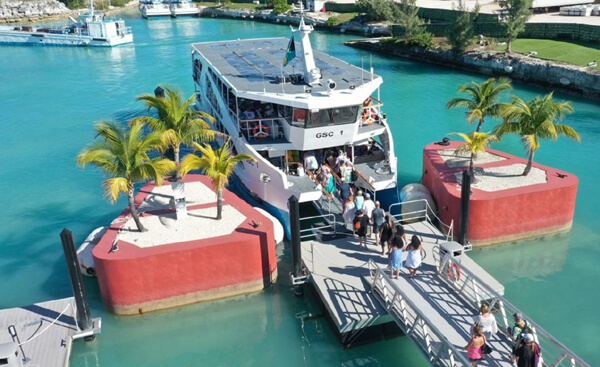 Passengers board the tenders at Great Stirrup Cay no longer wadding ashore
New tenders provide new amenities including air conditioning and bathrooms