Norwegian Offshore Rig Strike Expands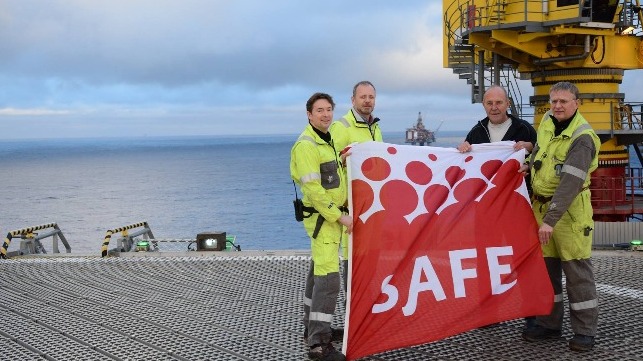 On Monday, Norwegian offshore workers' union SAFE expanded an ongoing strike to cover 900 more members and 19 more facilities. The walkout is in addition to the 700 workers who halted work at nine rigs last Tuesday. SAFE has not resumed negotiations with the Norwegian Shipowners' Association, which represents offshore operators, and it is now considering whether to increase the scope of the action to cover all 2,250 of its members.
The additional scope of the strike will take time to enter fully into effect, as the employees have to follow safe shutdown procedures before they can halt work, according to SAFE.
Norway's state oil firm, Equinor (formerly Statoil), said in a statement that it does not foresee any production impact in the immediate term due to the strike. However, it will impact drilling and well operations, creating the potential for delays for new production. Other operators have seen more immediate impacts: last week, the walkout led to a shutdown at Shell's Knarr field.
"With the current escalation of the strike on the Norwegian continental shelf, [SAFE] shows no understanding of the economic realities," said Jakob Korsgaard, lead employers' negotiatior and managing director of Maersk Drilling Norway. "It is also completely incomprehensible that SAFE is willing to put both jobs, the Norwegian continental shelf's attractiveness and competitiveness, and Norway's reputation as a safe and stable supplier of oil and gas resources in play."
Korsgaard pointed to the fact that Norway's offshore industry has not yet fully recovered from the oil market collapse of 2014-15, which led to mass layoffs, bankruptcies, restructurings and a stockpile of idled rigs."The last thing industry now needs is a strike that contributes to job insecurity and competitiveness," he said.
The dispute centers on pay and on pension provisions for new hires, according to the union. Korsgaard suggested that SAFE's negotiating position was out of line with the industry standard for benefits. "Three other trade unions thanked us for what we consider to be an attractive offer," he said last week.
As of Monday, the full list of rigs and facilities affected included: the COSL Innovator, COSL Promoter, Island Well Server, Island Frontier, KCA Askeladden, KCA Askepott, Seadrill's West Elara, Odfjell's Deep Sea Stavanger, Deepsea Atlantic and Deepsea Bergen, Songa Enabler, Songa Equinox, Songa Endurance, Songa Encourage, Petrojarl Knarr, Transocean Spitsbergen, Transocean Arctic, Scarabeo 8, Floatel Superior, and Archer Drilling's operations at Valhall, Snorre A, Snorre B, Stratsfjord C, Ecofisk X, Valhall DP and Visund.