Norway's Whaling Comes Under Fire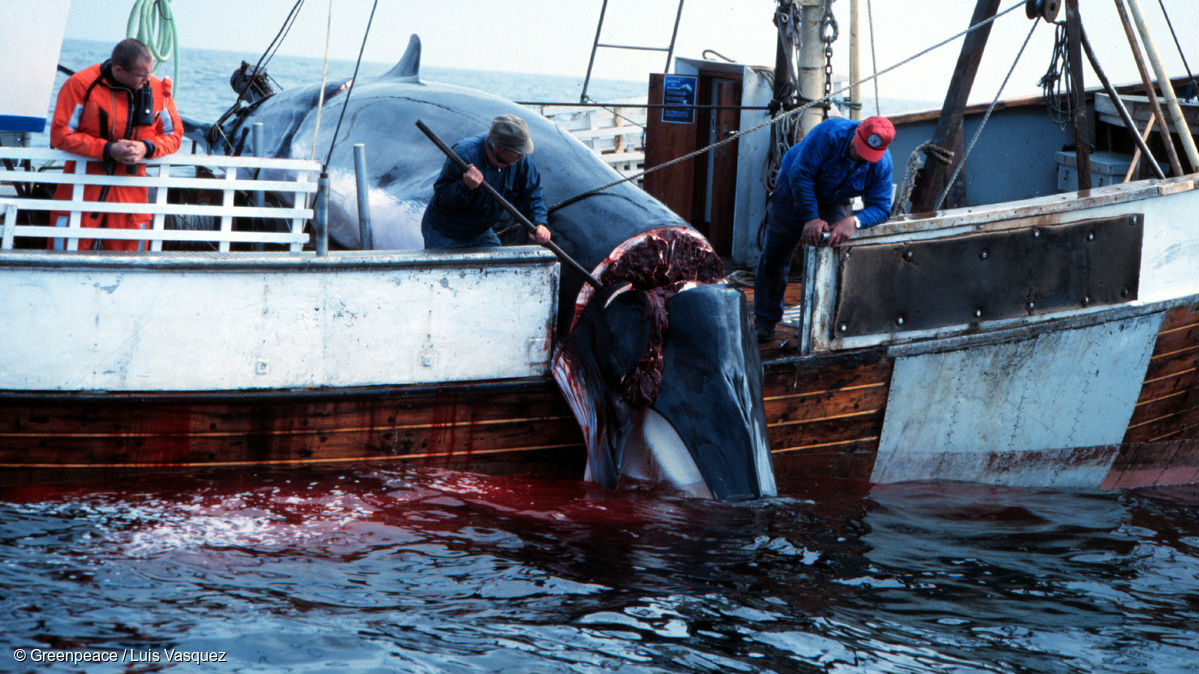 Norway's whaling season begins in April. The quota for 2017 has been set at 999 animals, up from the Norwegian government's 2016 quota of 880.
Norway is one of only two nations globally that officially practice commercial whaling, the other being Iceland. Norway officially objected to the moratorium on commercial whaling (which came into force in 1986) and does not respect it. The nation resumed commercial whaling in 1993 season after a few years pause.
Norwegian whaling only targets minke whales, operates only in Norwegian waters and is undertaken by relatively small boats that target fish at other times of the year. The number of vessels engaged in the hunt changes from year to year but is on average about 20, compared to about 5,000 active fishing vessels.
The animals are taken from a population of around 103,000 and 107,000 animals (Source https://iwc.int/status). North Atlantic minke whales are not classified as endangered.
Frida Bengtsson, senior oceans campaigner with Greenpeace Nordic says Norway should stop its commercial whaling. "It is in violation of international law (although Norway filed an objection). It is cruel and unnecessary, and it provides less than 100 jobs," she says.
"Whales face a number of threats, not least of which is climate change and marine litter as we could see from the stranded whale in Norway and whose stomach contained over 30 plastic bags. It starved to death. We should concentrate on those, not on finding ways to hunt whales."
Greenpeace has protested whaling globally and in Norway for decades both at sea and through lobby efforts. It's estimated the threat from hunting represents less than one percent of the threats facing whales today. "We will not rest until that number is zero," says Bengtsson. "Now pollution, climate change, mining and overfishing are the main threats, and we are campaigning ceaselessly to reduce their impact."
A film on whaling was recently released by the Norwegian Broadcast Agency (NRK), Slaget om kvalen or Battle of Agony in English. The film, partially funded by the Norwegian Fisheries, highlights the fact that approximately 90 percent of the whales killed by Norway are female, most of them pregnant.
The 2017 quota is inconsistent with and undermines the effectiveness of the International Whaling Commission moratorium on commercial whaling, says Kate O'Connell, Marine Wildlife Consultant at the Animal Welfare Institute. "Norway is now the leading commercial whale killing nation in the world, and in the past two years killed more whales than Iceland and Japan combined."
Norwegian exports of whale meat and blubber have been transiting regularly through E.U. ports en route to Japan for the past several years, says O'Connell. "The most recent shipment of 2,948 kg of whale products was shipped from Ålesund, Norway to Hamburg, Germany in early October by a cargo vessel called the Berta. At Hamburg, the shipment was loaded on board the MOL Beacon, stopping at Le Havre and Malta for eventual offloading in Kobe, Japan, in November.
"Given that the E.U. is opposed to commercial whaling and the trade in whale products, a number of organizations, including the Animal Welfare Institute, Oceancare and ProWildlife have called for changes to be made to E.U. regulations to so that the transit of whale products through E.U. ports is made illegal and enforcement authorities can act against these activities."
An Avaaz petition against the whaling has been started and now has over 500,000 signatures.
An Animal Welfare Institute report, Frozen in Time: How Modern Norway Clings to Its Whaling Past, is available here.