North Sea OSV Owners Forecast Consolidation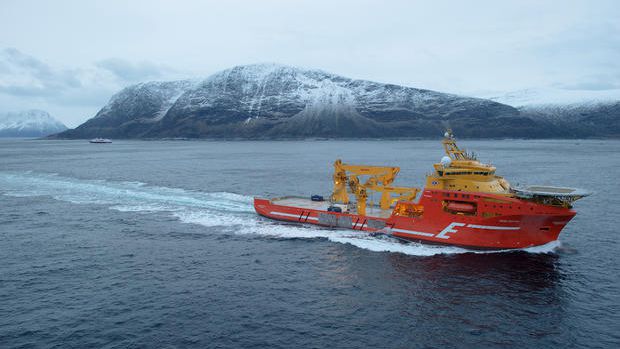 Norwegian offshore supply vessel firms Farstad Shipping, Havila Shipping and Solstad Offshore have all said this past week that they expect consolidation within the North Sea's offshore industry.
"What we have pointed to for a long time is that the supply side is too big compared to the demand side. We have also pointed out that there are too many owners in this market and therefore it is all set for consolidation," Farstad Chief Executive Officer Karl-Johan Bakken said. "The past six months we have seen the activity level come down. Whether we're touching the bottom remains to be seen."
Havila, which is undergoing a financial restructuring, said the industry was facing its biggest crisis to date.
"It's in such environments things seem to happen. As the market currently is, we are open to most suggestions," Chief Executive Officer Njaal Saevik said.
Supply vessel owners in the region, dependent on oil companies' drilling rig activity, have seen daily hires fall below operating costs even though around 100 vessels have so far been removed from the North Sea.
In earnings announcements Monday, competitors Gulfmark and Eidesvik posted fourth quarter losses and discussed adaptation strategies.
Gulfmark – which operates worldwide but has significant assets in the North Sea – laid out a grim view of the market, with president and CEO Quintin Kneen estimating that the world's OSV fleet is at 50 percent utilization. While the North Sea is showing signs of a turnaround for the firm – Kneen said that its vessels are now starting to come out of cold-stack on spot charters – he emphasized that long-term contracts are rare, and Gulfmark has moved to cut overhead and increase liquidity to stay flexible. "High-grading" remains the catchphrase of adaptation, as new, advanced vessels go on contract at lower rates than old vessels coming off hire. Gulfmark says it has disposed of all ships older than 20 years.
In a sign of the volatility ahead, Kneen said that Gulfmark has suspended revenue guidance. "The world remains largely a spot market as customers predict continuing vessel oversupply will result in . . . a prolonged period of lower rates. This environment makes forecas
Competitor Eidesvik Offshore posted a loss of $13 million in the fourth quarter despite a positive EBITDA, due largely to a $33 million writedown on the value of its fleet. The firm posted a successful 2015 with profits of $80 million, up from about $60 million in 2014. Media reports suggest that the firm is also looking to cut back on crew hours and to modify its loans to help weather the downturn.
Eidesvik said that the offshore construction vessel Viking Neptun had contributed significantly to financial performance on a contract with Technip, which has been renewed through 2016. The sale of Eidesvik vessels European Supporter and Viking II also offset the fleet value impairment.
"We are satisfied with the operation in 2015, and the organization's ability to enter into new contracts in a tough market," said CEO Jan Fredrik Meling.