Norfolk-Based Warships Head to Sea Ahead of Hurricane Florence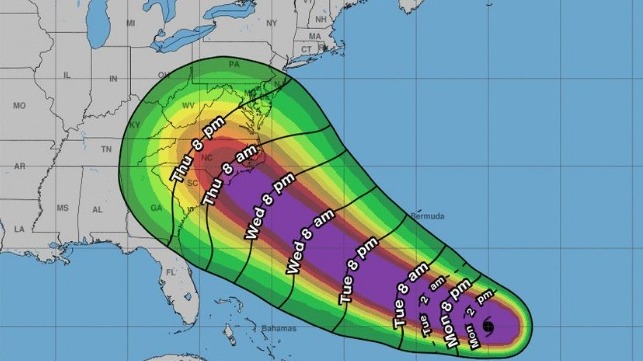 This weekend, U.S. Fleet Forces Command ordered all Navy vessels in the giant Hampton Roads naval complex to set out to sea before the arrival of Hurricane Florence.
Florence has strengthened to a Category 4 storm, and is currently forecast to make landfall on the U.S. East Coast, with the forecast trackline centered on the Mid-Atlantic region. The Navy says that there are nearly 30 ships preparing to get underway from Naval Station Norfolk - the world's largest naval base - and from Joint Expeditionary Base Little Creek. The fleet is expected to depart Monday.
Additionally, all Navy installations in the Hampton Roads area have set Tropical Cyclone Condition of Readiness Three, meaning that destructive winds of greater than 50 knots from a tropical system are expected within 48 hours.
Some vessels will not get underway due to maintenance status, but will be taking extra precautions to avoid damage. Depending on the severity of the weather, commanding officers may order additional mooring and storm lines, drop the anchor and disconnect shore power cables.
As of Monday morning, Florence was heading west at about 12 knots, and is expected to turn to the northwest on Wednesday night. It will likely approach the coast of South or North Carolina on Thursday morning, with hurricane-force winds arriving Thursday night or early Friday.
When Florence arrives, it is expected to bring a life-threatening storm surge in coastal areas. Heavy rains may also bring inland flooding in the Carolinas and the mid-Atlantic, extending hundreds of miles from the storm's center.
The governors of North Carolina, South Carolina and Virginia have all declared states of emergency, and in North Carolina, residents of Hatteras Island have already been ordered to evacuate. The rest of Dare County will have to leave beginning at 0700 Tuesday morning.