No Jail for "Magic Man" After 21,000 Sheep Violently Culled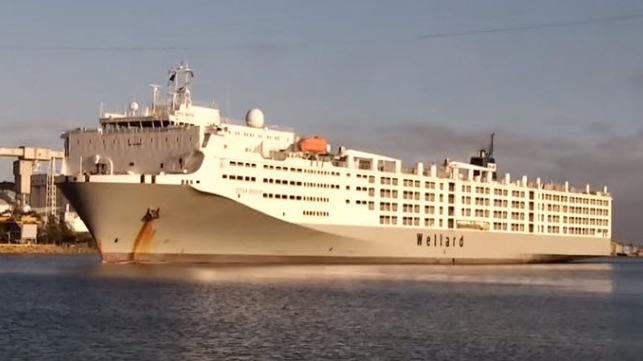 The "Magic Man" behind the delivery of around 21,000 Australian sheep to Pakistan where they were brutally culled in 2012 escaped an 18-month jail term this week on condition of good behavior and a A$20,000 bond. The sheep were clubbed and stabbed and some were buried alive after Pakistani authorities insisted they were diseased.
Garry Robinson was a general manager for livestock exporter Wellard and a director of the Australian Livestock Exporters Council at the time, and he pleaded guilty to a charge of dishonestly influencing an Australian public official with a document he knew had been fraudulently changed. He used the document to obtain a certificate of health for the sheep - who had earlier been rejected by Bahrain.
The court heard that in an email about the document to his colleagues, Robinson described the altered certificate as one that "has had magic done to it" and warned them: "We do not want anybody to compare the magic with the original."
The live export voyage started on August 4, 2012 when Wellard exported a consignment of approximately 75,000 sheep destined for Oman, Qatar and Bahrain on board the Ocean Drover. Following the discharge of part of this consignment in Oman and Qatar, the Ocean Drover sailed to Bahrain with the remaining sheep. After a series of delays in the unloading of the sheep in Bahrain between August 21 and September 1, Wellard requested approval to discharge the sheep in Pakistan. The Australian government approved the request, and approximately 21,000 sheep were discharged in Pakistan on September 5.
Australia's Department of Agriculture subsequently investigated the incident and found that police had escorted Wellard employees away at gunpoint prior to the cull. As a result, the government said that Wellard would not be sanctioned for the incident. However, some of the staff from the local importer, PK Livestock, recorded footage of the cull on their mobile phones. Wellard subsequently released a video statement, including images of the sheep being killed. The video was released on November 4, 2012 - just prior to a Four Corners TV program about it aired on November 5.
WARNING: THIS FOOTAGE SHOWS GRAPHIC CONTENT THAT SOME VIEWERS MAY FIND DISTURBING
Robinson's lawyer told the court that his client had been trying to prevent a repeat of what happened on the Cormo Express. This vessel remained at sea with more than 50,000 sheep on board after they were rejected by Saudi Arabia in 2003. Around 30 countries refused to accept the consignment that reportedly contained around six percent of diseased sheep. The livestock were eventually accepted by the impoverished African nation Eritrea after about two months at sea. Around 6,000 sheep died on board during the delay; the remainder were sent to a makeshift abattoir for slaughter.
Australia, Pakistan and Eritrea, along with around 180 other nations, are members of the World Organization for Animal Health (OIE). Dr. Monique Eloit, Director General of the OIE, was unwilling to comment specifically on the Wellard footage, but said the handling of animals should foster a positive relationship between humans and animals and should not cause injury, panic, lasting fear or avoidable stress.
The OIE standards for culling diseased animals include the principles:
• Following the decision to kill the animals, killing should be carried out as quickly as possible, and normal husbandry should be maintained until the animals are killed.
• The handling and movement of animals should be minimized.
• Animal restraint should be sufficient to facilitate effective killing.
• Methods used should result in immediate death or immediate loss of consciousness lasting until death; when loss of consciousness is not immediate, induction of unconsciousness should not be aversive [causing avoidance through unpleasant stimuli] or the least aversive possible and should not cause avoidable anxiety, pain, distress or suffering.
• For animal welfare considerations, young animals should be killed before older animals.
Some have criticized the OIE standards because they do not call for stunning of livestock before they are killed. Eloit says that the chapters on slaughter and killing of animals for disease control are under review and some of the issues related to the various methods of stunning will be explored. However, she says international standards must also consider the different cultural situations globally to ensure they are effective and applicable on a worldwide basis.
"The OIE is the international standards setting body in relation to animal health and welfare. However, we do not have a mandate to enforce regulatory approaches. This authority rests with the national Veterinary Authorities of our 181 member countries," says Eloit.
"Animal welfare was once considered a developed country concern and sometimes perceived by developing countries as an additional cost on production or a potential barrier to trade," she says. "It is now widely recognized as being closely linked to animal health and as a responsibility and an ethical obligation for animal owners, handlers and users. Ensuring adequate welfare of animals to the greatest extent practicable should be the objective for any animal-related activity."
The OIE maintains that animal welfare is a complex, multifaceted, international and domestic public policy issue with scientific, ethical, economic, legal, religious and cultural dimensions plus important trade policy implications. It is a responsibility that must be shared between governments, communities, the people who own, care for and use animals, civil society, educational institutions, veterinarians and scientists - in recognition of the sentience of animals.