12 Arrested in 2.4 Tonne Australian Cocaine Bust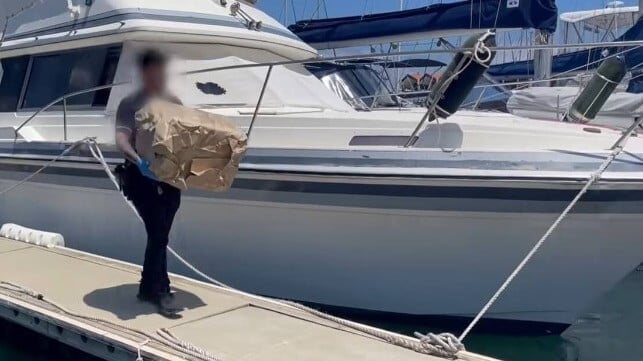 U.S. and Australian authorities have released details of a joint operation that resulted in the seizure of a 2.4 tonne shipment of cocaine and the arrest of its Western Australian buyers.
In November, U.S. forces intercepted the drug shipment off the coast of South America. The cargo was headed for Australia, so they notified Australian authorities of the smuggling attempt. The cargo's owners did not appear to be aware that U.S. authorities had taken their drugs, creating an opportunity to set up a sting at the receiving end.
To catch the cocaine importers at the Australian end, the Western Australia Police put together a fake cargo of "cocaine" made of plaster-of-paris. They dropped this consignment over the side at a position about 50 nm off the coast, then waited to see who would come pick it up.
On December 30, the retrieval crew allegedly used two motor boats, the Catalina and Cool Runnings, to transit to the dropoff area and hunt for the floating parcels. They located and retrieved heavy bundles of fake cocaine while WA Police units watched them on drone video feeds. When they neared shore, police swooped in and made the arrest.
The suspects aboard the two boats included Australian nationals Laban Joshua Saininaivalu, William Seru and Reremoana Kahui Patrick Stanley, all detained aboard the Cool Runnings. U.S. national Justin Lujan Wetherbee and Australian nationals Neil Michael McGregor, Kelepi Lovodua, Paul Anthony Masterson, and Issac Henry Rabuatoka were detained aboard the Catalina.
Four others were later detained on shore, bringing the total to 12.
The 2.4-tonne seizure was relatively typical by American or European standards, but it may be the largest in Australian history. It represents half of Australia's national cocaine consumption per year, according to Reuters. Cocaine is far more valuable in Australia, and the WA Police estimated the street value of the shipment at about US$680 million.
"This operation has enabled us to draw out those members of the syndicate who were equipped and prepared to receive and distribute a significant amount of illicit drugs within the community, who may have otherwise gone undetected and waited for the next consignment," said WA Police Commissioner Col Blanch.