NGOs: Hong Kong Convention May Undercut Shipbreaking Reforms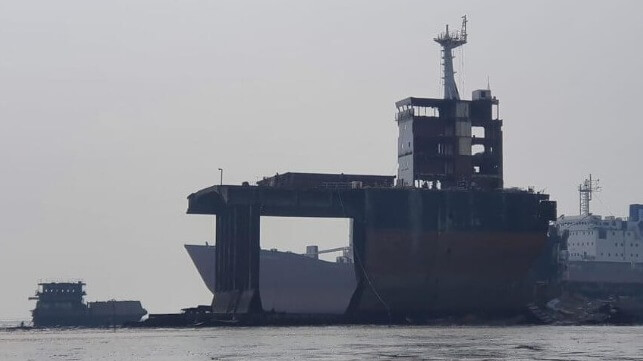 Clean shipbreaking advocates warn that the newly-ratified Hong Kong Convention for the Safe and Environmentally Sound Recycling of Ships could ultimately undermine labor and environmental protections more than it boosts them. When it enters into effect in 2025, the HKC will still permit "beaching" on South Asian tidal flats, warns NGO Shipbreaking Platform. It leaves out worker protection standards, and sets no international requirements for the disposal of hazardous materials removed from the hull, according to the group.
When Bangladesh and Liberia ratified the treaty in late June, bringing it across the finish line for entry into force, shipping industry associations hailed its passage. The International Chamber of Shipping called it a sign of "huge progress" in the sector and a guarantee of "legal certainty" for shipowners. BIMCO called the ratifications a "leap" forward for safety and environmental protection.
But NGO Shipbreaking Platform took a different view of the HKC's passage.
"This international convention rubberstamps shipbreaking on tidal mudflats and ignores labor rights and international rules for hazardous waste management. It will only serve the interests of shipping companies to avoid paying the true cost of sustainable and ethical recycling and undercut efforts to level the playing field for responsible ship recyclers to compete," said Ingvild Jenssen, the executive director and founder of the NGO. "As it stands, the Hong Kong Convention undermines the overall credibility of not only its own stated objectives, but also that of the IMO."
According to Jenssen, the HKC's standards fall short of the EU Ship Recycling Regulation and the Basel Convention's requirements for preventing toxic waste dumping in recipient states. The waste-exporting countries subject to the 1995 Basel Ban Amendment - the EU and OECD - face a set of rules that are even tougher and less aligned with the HKC.
If the HKC's standards are short of the Basel standard, HKC implementation may fall even shorter, according to the Platform. Many South Asian beaching yards in Bangladesh and India have obtained HKC certification from class, but independent reviews have found discrepancies. EU inspectors have ruled against every South Asian yard that has applied for EU SRR certification, and their audits have found disqualifying issues. These include inadequate infrastructure to contain pollutants; lack of capacity to manage hazmat streams; labor violations; excessive soil, water and air pollution; and lack of emergency response facilities.
"The Hong Kong Convention is already adopted by the sub-standard yards on the beaches in India and Bangladesh, so in practice, there will be no change, just 'bad business as usual'. Eyes are now on the Basel Convention and the EU's Ship Recycling Regulation. Both are important blueprints for the necessary reform of the IMO's Hong Kong Convention," said Sigurd Enge, senior advisor at Bellona Foundation.