Newly-Reelected Abe Getting Tough on North Korea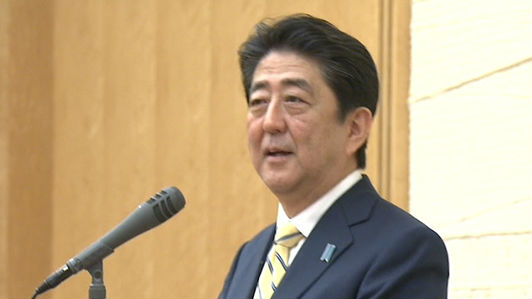 Japanese Prime Minister Shinzo Abe swept to victory in a snap election on Sunday, vowing to deal firmly with threats from North Korea.
Abe is expected to propose changes to Japan's U.S.-imposed pacifist constitution which limits its military to a self-defense role. Article 9 of the constitution, enacted by the country's American occupiers in 1947, calls for the complete renunciation of war. Abe said he would deepen debate on the issue: "I don't plan to propose (changes) via the ruling bloc alone. We'll make efforts to gain support from as many people as possible."
A change to constitution would require support from two-thirds of the members of both chambers of parliament and a majority in a public referendum.
Abe announced the election on 25 September, saying he needed a fresh mandate in order to deal with the "national crises" facing Japan including North Korea, which has fired missile tests over the nation and threatened to "sink" it into the sea.
In September, Abe stated in an editorial published by The New York Times that, considering its history and its continuing missile launches and nuclear tests, more dialogue with North Korea would be a dead end. "In northeast Asia, the North Korean threat has been real for more than a quarter-century. We face the threat of missiles - short and medium range - together with the possibility of chemical weapons attacks.
"North Korea has targeted Japan in particular by abducting many innocent Japanese citizens, including a 13-year-old girl who was abducted in 1977. Most of them have been held in North Korea since the 1970s and 1980s.
"Everyone aspires to a peaceful solution to these challenges. And global solidarity is of utmost importance. Still, prioritizing diplomacy and emphasizing the importance of dialogue will not work with North Korea. History shows that concerted pressure by the entire international community is essential."