New Zealand Recovers 3 Tons of Cocaine "Floating" in the Pacific Ocean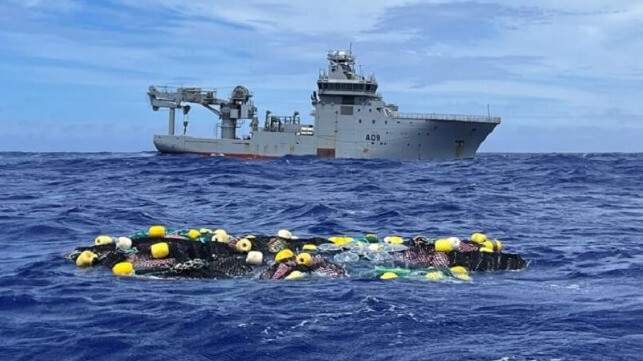 The New Zealand Defence Force working in conjunction with law enforcement and customs has retrieved more than three tons of cocaine floating in the Pacific Ocean at what they believe was a "transit point," for international drug smugglers. New Zealand's Police Commissioner estimated the value of the seizure at more than US$316 million saying that due to its size, it was likely meant for the Australian market.
"This was one of the single biggest seizures of illegal drugs by the authorities in this country," said Andrew Coster, the New Zealand Police Commissioner. He estimated that there was enough cocaine found to supply Australia for one year or nearly 30 years in New Zealand, which he said is a small market for the drug.
In an operation code named Hydos, the New Zealand Police, working in partnership with New Zealand Customs Service and the New Zealand Defense force located a total of 81 bales at an undisclosed location in the Pacific. Operation Hydros they said was initiated in December 2022 working with international agencies to identify and monitor "suspicious vessels' movements."
"Cocaine floats," said Greg Williams the director of the New Zealand police's organized crime group during a press briefing. He explained that the drugs were wrapped in nets with flotation devices and left in the ocean for couriers to collect. He said this operation is not uncommon and for example that they have found cocaine washed up as far away as Tonga.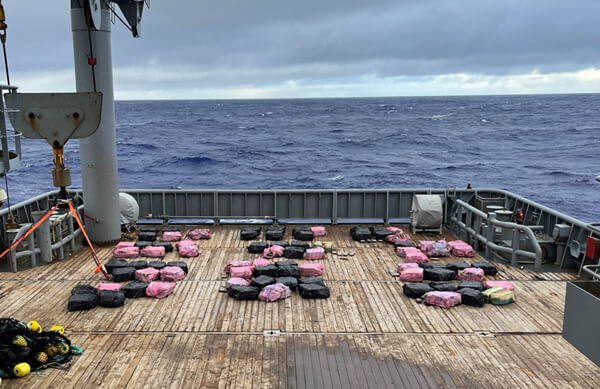 81 bales of cocaine were found wrapped in nets with flotation devices (New Zealand Police photo)
The unusually large size of the discovery was thought to be a new example of the impact the disruption in the global supply chain and shipping is having. They speculated that the crime syndicates were testing different shipping methods. Over the past few years during the pandemic, other police forces around the world have made similar observations about the increase in the size of shipments and new methods used by organized crime due to the changes in the global shipping markets.
The current seizure was estimated to be four times larger than New Zealand's previous largest cocaine seizure. The Royal New Zealand Navy dispatched its vessel HMNZS Manawanui to transport the seizure to shore. They said it was a six-day journey that arrived in Auckland, New Zealand yesterday, February 7.
No arrests have been made at this stage but the investigation is ongoing. The cocaine will be destroyed in New Zealand.