New Zealand, Australia Delay Cruise Ship Over Biofouling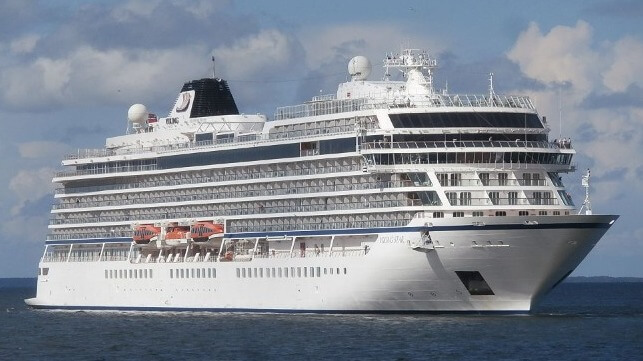 For the second time in two weeks, a cruise ship has been refused port calls due to biofouling. Passengers aboard Viking's luxury cruise ship Viking Orion, which included many Americans having flown halfway around the globe for a vacation of a lifetime, instead found themselves at sea for a week as port after port in New Zealand and then Australia refused the cruise ship's arrival.
The Viking Orion (47,861 gross tons) introduced in 2018 as the fifth cruise ship in the company's ocean fleet, departed Sydney, Australia on December 22 for a two-week Australia-New Zealand Christmas-New Year's cruise. According to the published itinerary, the cruise ship made two port calls on New Zealand's North Island at Tauranga and Napier before the problem was identified while the vessel was at Wellington, New Zealand on December 26. Since then, she has been a cruise ship in search of a port of call.
New Zealand officials denied the cruise ship stops in Christchurch on the South Island and Dunedin. The cruise ship was scheduled to proceed to Hobart, Australia on Tasmania but the Australian officials also decided to block its entry into local water. They proceeded to Adelaide on the south coast of Australia, but before arriving there at the end of last week, the captain advised the passengers that the ship would be holding offshore to correct the problem.
The Australian Fisheries Management Authority (AFMA), a government agency responsible for the management of fish resources including monitoring water quality and the commercial fishing industry, confirmed the problem. Mainstream media outlets have misreported the fouling as a "fungus" on the hull.
"The vessel is required to undergo hull cleaning to remove the biofoul and prevent potentially harmful marine organisms being transported by the vessel," AFMA said in a brief statement.
Marine growth would be allowable in most seaports around the world, but New Zealand and Australia have national biofouling regulations. Australia's rules are new, and they just took effect in June 2022. The rules require operators to "demonstrate implementation of proactive management practices" for fouling, and the authorities are empowered to use Australia's biosecurity rules to inspect hulls and manage "unacceptable biosecurity risk." The initial 18 months are an "education first" period for Australia's Department of Agriculture to engage with shipping and explain the new rules.
The Viking Orion remained approximately 17 nautical miles off the coast of Adelaide, where on Friday and Saturday professional divers were brought in to clean the hull. A spokesperson for Viking confirmed, "While the ship needed to miss several stops on this itinerary in order for the required cleaning to be conducted, she is expected to sail for Melbourne as planned on January 1, and we are expecting the scheduled itinerary to resume completely by January 2."
AIS data confirms she is underway and expected to arrive in the final port of the cruise on January 2. From Melbourne, she will then return to Sydney, where the cruise is scheduled to end on January 4.
Passengers are upset that they have missed four of the eight scheduled ports of call for the cruise and instead spent a week at sea. Viking reportedly has issued an apology. Passengers aboard the cruise are commenting on social media that they were told that they would be receiving at least 50 percent compensation.
The cruise was the second from Australia for Viking after an absence of more than 1,000 days due to the pause in operations due to COVID-19 and Australia's extended ban on foreign cruise ships. Australia did not permit cruise ships to return till the end of April 2022 while the first cruise ship did not arrive in Auckland, New Zealand till August 2022. Viking Orion sailed in Alaska in the summer of 2022 and completed voyages through Asia before returning to Sydney on December 8. She had made several port calls in both Australia and New Zealand since her return without a problem before this cruise.
Just before Christmas, New Zealand officials had also blocked Princess Cruises' Coral Princess from scenic cruising of Milford Sound and a port call at Port Chalmers after snails were found on the cruise ship's hull. New Zealand is known to have strict biofouling regulations with officials highlighting that 90 percent of marine pests arrive in the country on the submerged surfaces of international vessels.