U.S. Navy Lengthens Tours to Fill Overseas Billets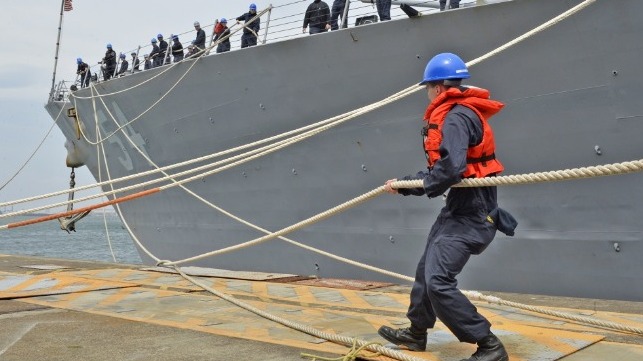 The U.S. Navy has announced that it will be lengthening the deployments of incoming enlisted sailors on sea duty billets in three overseas commands, part of a set of measures intended to address manning and turnover concerns.
Prescribed Sea Tours (PST) for first-term sailors assigned to forward-deployed sea duty billets will now extend up to four years, with some exceptions for sailors with dependents in the U.S. It only applies to those on their first sea duty tour in Japan, Guam and Spain, and there are limited exceptions for medical officers, nuclear-trained personnel and others.
The service is also encouraging those who are already deployed to take advantage of incentives to extend their current tours, including a guaranteed rotation to shore duty at the end of an extended tour, extra pay, extra shore leave and preferential consideration for the next billet of their choice.
The Navy has struggled with manning for some time, especially in overseas commands, and personnel chief Vice Adm. Robert Burke warns that it will have to work even harder as the force grows towards its 355-ship target. It hopes to add about 10,000 servicemembers to its end strength over the next five years in order to meet growing demand, partly through recruitment and partly through a renewed emphasis on retention. According to Adm. Burke, highly-skilled billets in nuclear, aviation, sonar, electronics and cyberwarfare are particularly hard to fill.
Overseas commands face additional difficulties. In Japan, tours were limited to two to three years, according to former head of Navy Personnel Command Vice Adm. Richard Brown, leading to high turnover, and fewer new recruits were being assigned to forward-deployed commands right out of boot camps. Both of those problems have now been solved, he said, and many of 7th Fleet's ships are now fully staffed.
The Navy also faces broader, structural challenges: The Department of Defense estimates that over 10 percent of military personnel are not able to deploy overseas for 12 months or more due to medical issues. Including the Navy and all other service branches, there are nearly 250,000 non-deployable servicemembers in the armed forces. In addition, the Pentagon estimates that about 70 percent of recruitment-age citizens do not qualify for service due to obesity, medical issues, education requirements or criminal backgrounds.
Vice Adm. Joseph Aucoin, who commanded 7th Fleet at the time of the two deadly destroyer collisions last year, asserts that manning shortfalls were a significant contributor to the Japan-based fleet's much-discussed readiness issues. "Why cannot the Navy ask for more people?" he asked in a recent op-ed. "In the end, the same fate awaits us if the uniform leaders cannot defend the Navy's manning requirements, push back on tasking demands, and advocate strongly for those resources that our sailors need to do their job."