Navy Cruiser Rescues Sport-Fishing Boat Near San Diego
On Sunday, the Coast Guard cutter Sockeye and the Navy guided missile cruiser USS Lake Erie rescued a sport-fishing boat carrying 25 passengers and crew off of San Diego.
The Truline, a 65-foot charter boat out of San Pedro, was on an overnight excursion just off of San Clemente Island when she struck an unknown object. She made a distress call at about 0250 hours on Sunday morning and reported that she was taking on water. U.S. Coast Guard Sector San Diego dispatched a small boat team, a helicopter and the cutter Sockeye to respond.
The Ticonderoga-class cruiser USS Lake Erie (CG 70) was conducting a training exercise with the Nimitz Carrier Strike Group not far from the scene of the casualty, and she diverted to assist. The Lake Erie launched a small-boat team with eight damage control personnel to help stabilize the Truline, and upon arrival, they began dewatering the vessel and searching for the source of the leak. "After making sure everyone was alright, we noticed water was coming in at about 1,200 gallons a minute," said Lt. Ruben Maldonado, Lake Erie's damage control assistant. "We estimated 24 inches of water to be flooding the deck."
The Navy team found two cracks in the wooden vessel's hull and used wooden shoring to slow down the rate of flooding. Once the situation was under control and the water level was falling, the team handed the operation over to the Coast Guard. The cutter Sockeye evacuated the Truline's 20 passengers, and the charter boat's five crewmembers remained with their vessel to bring her back to shore. With a Coast Guard escort alongside, the Truline made it safely to Newport Beach Shipyard for repairs.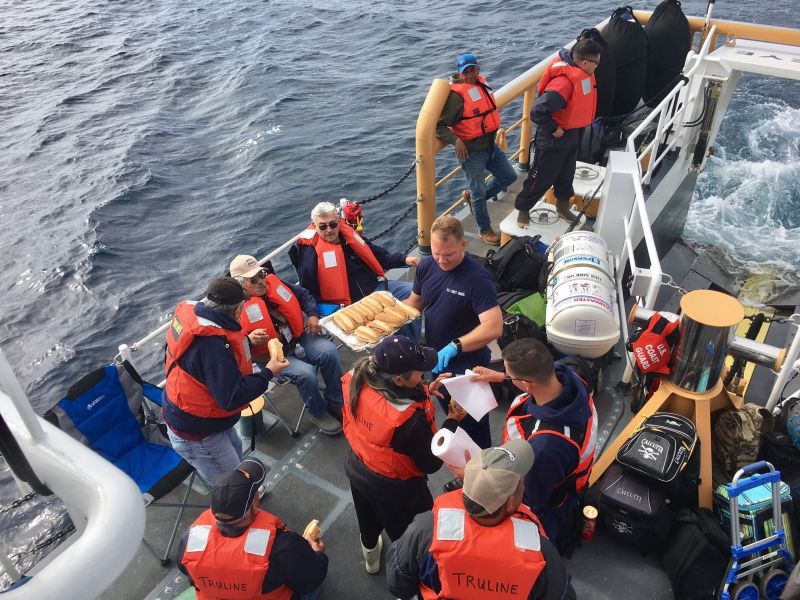 Passengers and USCG responders aboard the Truline (USCG)
"We train every day for these types of situations," said Navy damage controlman 2nd class Mark Grizer. "Every situation is unique, so we have to have a creative mind to fix any problems we find. This was a great opportunity to help our fellow Americans in need."
A representative for the Truline's operator told the OC Register that the firm plans to return her to service once repairs are complete. Her online charter calendar shows that she is booked through October.