MSC Cruises Commits to E-LNG and Shore Power Use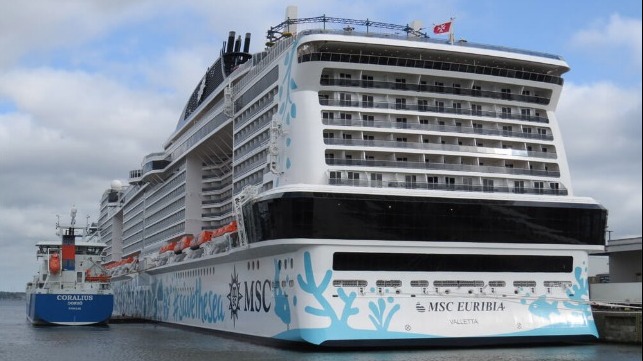 The Cruise Division of MSC Group report that is taking additional steps designed to enhance its environmental performance. The cruise group recently took delivery on its second LNG-fueled cruise ship and after a demonstration trip using bio-LNG is setting the pathway to transition to the fuel while also expanding its commitment to shore power to support ports as they invest in the capability.
MSC reports it signed a long-term supply agreement with Nordic energy company Gasum for LNG to be used with the line's new ship the MSC Euribia. They also executed a letter of intent with the goal of Gasum supplying sizeable volumes of several thousand tons of e-LNG to the cruise operation starting in 2026.
Built at Chantiers de l'Atlantique in France and delivered last month, the new 184,011 gross ton cruise ship was the last of a class of ships on order but also the first to convert to LNG. The ship was four Wärtsilä Dual Fuel engines (two 16V46DF and two 2 x 12V46DF) all capable of operating on LNG or marine gasoil (MGO).
Gasum supplied MSC Cruises with 400 tons of bio-LNG to be used as a drop-in during the Eruibia's delivery run between St. Nazaire and Copenhagen. MSC reports it was the first deep-sea ocean cruise operator to buy bio-LNG and it was used to operate a demonstration voyage which the company says was the first net-zero cruise.
Gasum highlights that e-LNG is synthetically produced through a Power-to-Gas process. Hydrogen is produced from water using renewable electricity sourced from wind, solar or other options further processed into methane by adding non-fossil carbon dioxide obtained from carbon capture. This resulting synthetic renewable methane gas is fully interchangeable with natural gas and biogas. Synthetic gas can be fed directly at any ratio into dual-fuel engines installed on existing ships, which currently run on natural gas, biogas, LNG, or liquefied biogas. Gasum's goal is to bring seven terawatt hours (7 TWh) of renewable gas to market each year by 2027.
In addition, MSC Group said its cruise division has committed to the use of shore power in at least 15 new ports between 2024 and 2026. This includes Miami, along with ports in Spain, Norway, Denmark, Sweden, France, the Netherlands, Malta, and Italy. European ports are investing in shore power as part of the emerging emissions regulations and to help cruise lines and others meet the requirements to reduce and eliminate in-port emissions.
MSC reports its cruise ships started using shore power in Southampton in the UK and Kristiansand in Norway since February 2023. Additional port trials will proceed this year in Haugesund, Bergen, and Alesund in Norway, and Warnemunde in Germany. MSC Cruises will also use shore power in the German ports of Hamburg this winter and Kiel during the summer of 2024 while having signed a memorandum of understanding with Cruise Baltic, which includes 32 ports and destinations, to support the organization which has committed to increasing the number of shore power facilities available.
The cruise division intends for all ships belonging to MSC Cruises and its luxury Explora Journeys brand to fully utilize shore power facilities at all other ports they visit once available. Shore power capability has been fitted on all of MSC Cruises' new ships since 2017 and today the company says two-thirds of its capacity is equipped with the technology. More ships will be retrofitted as the ports on their respective itineraries make shore power available.