MSC Containership Lost Empties During Bad Weather off Bermuda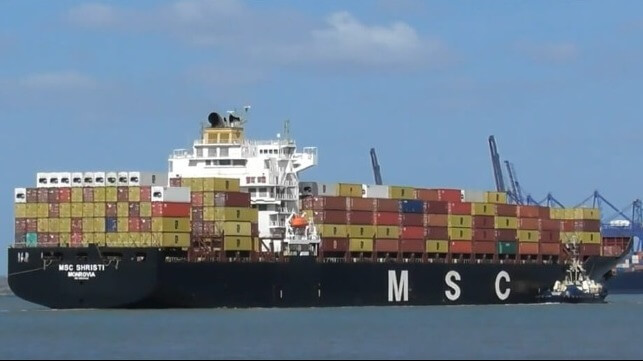 Bermuda's Department of Marine & Ports Services has issued a warning to mariners after receiving a report of containers that fell overboard from an MSC-managed vessel at the beginning of the month. After liaising with the U.S. Coast Guard, Bermuda began issuing the warning about the potential danger of boxes floating in the Atlantic.
The Bermuda Maritime Operations Centre reports that it was notified by email that the MSC Shristi (64,989 dwt) had lost a total of 46 empty containers at three different times at a position approximately 350 nautical miles east of Bermuda. The vessel was experiencing what was termed "bad weather" at the time of the three losses.
The report did not provide a date for when the losses occurred but said the vessel was sailing from Bermuda to the Dominican Republic at the time. The ship's AIS data shows that it departed Boston on February 26 after a trip along the U.S. East Coast with port calls in Charleston, South Carolina, and the Port of New York/New Jersey. The vessel departed from Caucedo in the Dominican Republic on March 5 bound for the Mediterranean with its route suggesting that it lost the boxes on March 1 or 2. The vessel's course shows that it changed directions possibly due to weather and the stack collapse.
Built in 2005, the 18-year-old boxship was originally operated by the Japanese as the Venice Bridge and since 2019 according to Equasis has been owned by Baltic East. The ship began operating for MSC as of December 2020 and is registered in Liberia.
Her last inspection is reported to have taken place in Singapore in December 2022. She was not detained but five deficiencies were listed including an item for maintenance of the ship and equipment. Inspections dating from earlier in 2022 back to March 2019 had been free of issues, but in 2017, 2018, and 2019 she was cited but not detained for deficiencies during inspections in both The Netherlands and Germany.
The database shows that the vessel is currently managed by MSC Shipmanegement of Cyprus. This is the same division of the Geneva-based group that was recently cited by the Australian Maritime Safety Authority (AMSA) which issued a letter of warning to MSC Shipmanagement in relation to serious deficiencies. The Australian authority reported that it had detained five MSC-managed vessels since the start of 2023 over safety issues and at the end of February issued a three-month ban barring one ship from Australian waters. In addition, AMSA said in the letter that it would be making more frequent inspections of ships managed by MSC Shipmanegement over the next year.