MSC Boxship Runs Aground in Suez Canal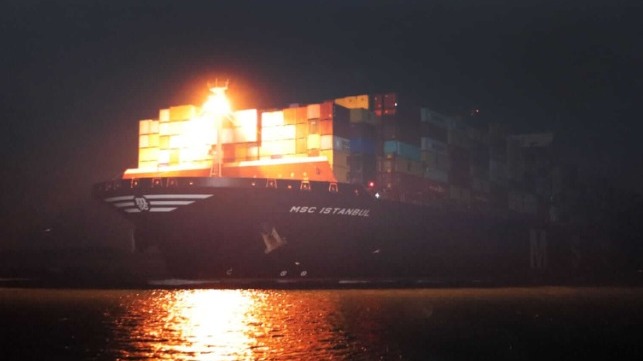 On Sunday, another supersized container ship ran aground in the close confines of the Suez Canal. This time, however, there was little if any disruption, and the ship was quickly refloated and on her way.
On Sunday afternoon, the 16,000 TEU boxship MSC Istanbul was transiting north when she went aground at kilometer 78 of the canal. The Suez Canal Authority (SCA) dispatched four tugs to respond to the grounding and attempt to refloat the ship.
Luckily, this stretch of the canal has two parallel channels, and SCA chairman Osama Rabei said that the rest of the ships in the northbound convoy were diverted into the eastern waterway. All of the day's southbound vessels also transited normally.
At 2000 hours local time, the SCA announced that it had successfully refloated the ship using its own tugs. The agency said that the operation was carried out "without impacting the traffic through the canal in any negative way."
"SCA has extensive expertise in the field of maritime salvage operations as well as the technical and maritime safety capabilities that enable it to deal with any potential emergencies in a professional manner," emphasized Rabei.
The most serious boxship grounding in the canal, the Ever Given incident, shut down the waterway for six days in March 2021. The massive vessel's bow and stern lodged in opposite banks, blocking the one-lane southern stretch of the waterway completely. A combined effort using construction excavators, cutter suction dredgers, large salvage tugs and hundreds of people finally managed remove the vessel and get her on her way again.