Montréal Completes First Phase of Terminal Expansion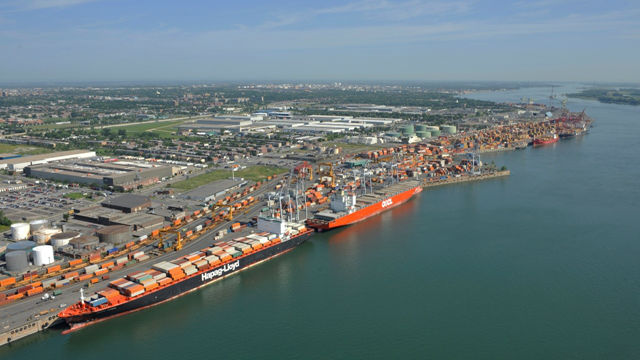 A new container terminal was inaugurated at the Port of Montréal, Canada, on November 18.
The new container terminal will boost the Port of Montréal's handling capacity by 450,000 TEUs. Together with the work done previously and the second phase of work to be completed in the years to come, it will bring the total handling capacity in the Viau sector to 600,000 TEUs and the Port of Montréal's overall handling capacity to 2.1 million TEUs.
The construction of the new terminal is part of a broader port capacity optimization project covering three areas: the terminal's container-handling capacity, marine access and road access.
The Government of Canada is contributing a third of the eligible funding for all three project components to a maximum of $43,666,667 under the National Infrastructure Component of the New Building Canada Fund. Of this amount, up to $27.2 million is available to fund the new container terminal. The remainder of the funding will be attributed to the project's other two components.
Investments made by the Government of Canada and the Montréal Port Authority to enhance the Port of Montréal's infrastructure will make the global movement of goods more fluid, create direct and indirect jobs in transportation systems across the country, contribute to national prosperity and help grow the middle class, said the Port in a statement.
The Port of Montréal is the second-largest container port in Canada and the fifth largest on the east coast of North America. It is the only container-handling port in Quebec and Ontario.
One in four shipping containers handled in Canada passes through this key trading hub.
It is the most direct intermodal link between the industrial heartland of North America and the markets of Northern Europe and the Mediterranean, giving it a key role across the country.
The port consists of four container terminals, six bulk liquid terminals, three dry bulk terminals, five non-containerized cargo terminals, a grain terminal, a grain containerization facility and a cruise terminal.