MOL and Tsuneishi Join Methanol Ranks Ordering Their First Dual-Fuel Bulker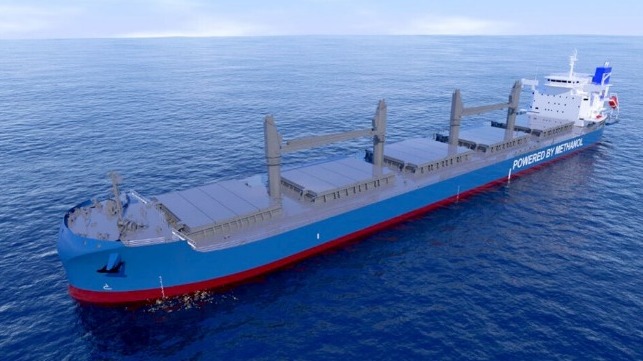 Methanol continues to be the leading alternative for shipping companies looking to accelerate their decarbonization efforts and protect their investments by adopting dual-fuel newbuilds. Japan's Mitsui O.S.K. Lines Dry Bulk Co. in conjunction with Tsuneishi's Kanbara Kisen Co. are joining the emerging sector announcing the order of a methanol dual-fuel bulk carrier due for delivery in 2027.
While methanol has gained strong traction in the containership segment, others are still lagging with the order by MOL and Kanbara becoming one of the first to adopt it for bulkers. DNV calculates that there are only four bulkers currently on order that will be methanol-fueled vessels. The Japanese shipping companies highlight that the introduction of a methanol dual-fuel bulk carrier at an early stage, will play a role in initiatives by society as a whole to achieve decarbonization through safe ownership, management, and operation of this innovative vessel.
The companies however highlight one of the challenges of designing ships for methanol which has a lower density meaning it requires larger fuel tanks to make the vessel both flexible and economically viable. Tsuneishi Group which will build the vessel at its Tsuneishi Shipbuilding and own it through Kanbara highlights the vessel has a methanol tank capacity designed to accommodate a variety of routes, ensuring the necessary cruising distance while maximizing cargo space.
Under the terms of the agreement, MOL Dry Bulk will run the vessel on a time charter. MOL highlights that it will have the sailing distance capability to operate key segments including mainly in the transport of biomass fuels from the east coast of North America to Europe and the U.K. and within the Pacific region. It however will also be able to transport grain from the east coast of South America and the U.S. Gulf Coast to Europe and the Far East.
The design calls for a vessel that will be about 658 feet in length, which is similar to the current class of bulkers MOL operates. It will have a beam of nearly 106 feet and be about 65,700 dwt. It will have a hold capacity of about 81,500 cubic meters.
Tsuneishi expects that the vessel will primarily operate on e-methanol produced by synthesizing manufactured hydrogen and bio-methanol derived from biogas to significantly reduce greenhouse gas emissions compared to conventional vessels of the same type. As a backup, however, the vessel will be able to operate on heavy oil.
MOL Group aims to have 90 LNG/methanol-fueled vessels in service by 2030 as part of its efforts to reduce its emissions while also adopting clean alternative fuels in its fleet. With growing worldwide interest in methanol fuel as a promising clean energy source, MOL believes the early adoption of a vessel will promote its initiatives to secure the necessary capacity, not only in terms of fleet planning of methanol dual-fuel vessels but also in the procurement of low and decarbonized methanol fuel.