Mission to Seafarers Monitors Crew of Damaged Russian Freighter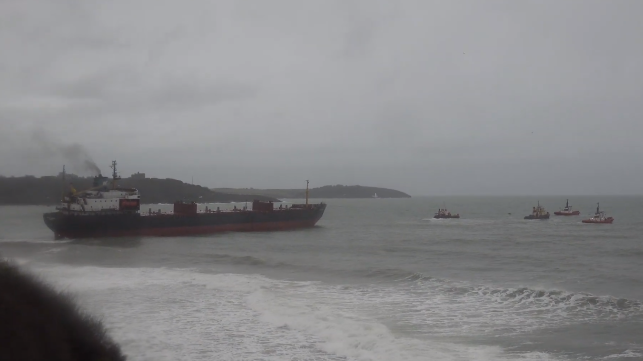 The bulker Kuzma Minin remains anchored at the port of Falmouth, UK, two weeks after she went aground near the harbor's entrance. She suffered damage to a fuel tank, according to Russian state media, and has been ordered not to leave port until after repairs are finished.
No pollution has been reported from the tank damage, and the crew's welfare is being monitored by the Mission to Seafarers' Falmouth branch. The deputy head of the British Foreign Ministry, Alan Duncan, has provided Russian diplomats with assurances that the UK will ensure the crew's safety.
The head of Mission to Seafarers Falmouth, Penelope Phillips, told BBC Radio that the organization would keep an eye on the situation aboard the Minin as the repair work proceeds. "We need to keep a watching brief on this one because the Russian crew on the Kuzma Minin may become a welfare case very shortly," she said. "They are still on board at the moment. There is no immediate concern. We know they have enough food and water for the immediate future but it is something that we will need to keep an eye on."
According to the UK Maritime and Coastguard Agency, the Minin dragged anchor in a storm on December 18 and went aground, coming to rest off a beach near the entrance to Falmouth harbor. An RNLI lifeboat out of Falmouth was among the first responders at the scene, and its crew reported Force 7-8 winds, torrential rain and swells of 10 feet.
The Minin's 18 crewmembers remained on board, along with a harbor pilot and a Coastguard rescue swimmer. Response officials dispatched five habor tugs and a salvage vessel to the scene to attempt a refloat, and the freighter was successfully pulled off the shore at 1400 hours.
Ildar Neverov, the director of ship operator Murmansk Shipping Company, has blamed inadequate "conditions for safe navigation" at the site for the grounding, and he has threatened to "look at recovery of damages."
The 23,000 dwt Kuzma Minin was built in 1980 by a German yard. In September, she was detained at Terneuzen, the Netherlands for 70 days over six deficiencies, including a missing seafarer employment agreement; out-of-survey SOLAS equipment; an expired Maritime Labour Certificate; insufficient provisions; and an inoperable gyrocompass. It was her second detention in three years.