Missile Attack on Odesa Damages Offices of Danica Crewing Services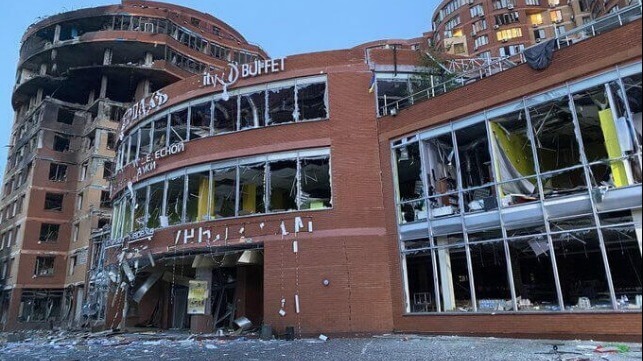 Despite the agreements under the Black Sea grain agreement not to target the ports and shipping infrastructure in Ukraine, elements continue to come under attack including several recent Russian missile assaults on Odesa. Henrik Jensen, the owner of Danica Maritime Services, one of the leading crewing agencies, reports the attacks came a little too close last night damaging the offices of his company. He says no one was injured and they continue to operate but can not reach their offices.
"The target of the attack was in the same block as our office with some of the missiles hitting the neighboring buildings," Jensen reports in a posting on LinkedIn posting a picture of damaged buildings.
He reports the photo shows the building next to Danica's office. "Our office building 100 meters away also suffered damage with windows blown in and ceilings falling," writes Jensen.
The building in the background, also severely damaged, he highlights is a residential building. While he says he is not in Odesa, he notes that he had an apartment in the damaged residential building seen in the picture.
"The Danica team members in Odesa are currently not able to attend the office, but our brave Ukrainian staff continues to perform their duties from home without interruption," writes Jensen. "Many thanks for the many supportive calls this morning from owners, seafarers, partners, and friends."
Danica has been a leading supplier of Ukrainians who were a key part of the seafaring community before the war. The company previously highlighted that travel restrictions on the men of the country had greatly reduced the supply of seafarers as well as individuals' desires to remain at home during this period and defend their country. Danica's headquarters are in Hamburg, with operations in Ukraine, the Baltic, and Cyprus.
These attacks come as Russia continues to threaten the grain agreement repeatedly saying it would withdraw despite agreeing to an extension into July. Data from the UN-led effort supported by Turkey shows that only a small number of ships have been permitted to proceed to Ukraine during June. Odesa continues to receive ships as does Chornomorsk, but Yuzhny despite being part of the agreement has not received a ship since mid-May. One ship was able to depart Odesa today bound for China despite the latest missile attacks.