MISC Crew Rescues Fisherman Adrift for Twenty Days
A Filipino fisherman stranded in the middle of the North Pacific Ocean, more than 400 nautical miles from Philippines coast, was rescued on Saturday, May 26, 2018 thanks to the efforts of the crew of MISC's LNG vessel, Seri Begawan.
After 20 days adrift at sea, the distressed fisherman was found stranded on a small boat by Seri Begawan during her voyage from Gladstone, Australia to Beihai, China. He was spotted by the lookout on duty at the navigation bridge. The shipboard team sprang into action, and upon his rescue, the crew ensured that the fisherman was provided with medical attention and food.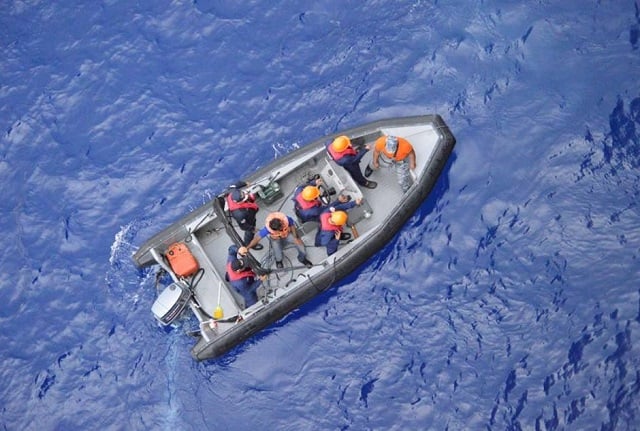 The rescued fisherman, Roberto De La Cruz, 39, was from Surigao City, Philippines. He was lost at sea when his boat was separated from his mother vessel, due to bad weather, and he had been adrift since then.
The Master of Seri Begawan, Captain Manjit Lal, contacted the Philippines Maritime Rescue Coordination Center to alert them of the situation. At the advice of the Philippines Coast Guard, Roberto was disembarked at a location close to the coast the following day, and Seri Begawan resumed her voyage to China.
MISC's CEO, Yee Yang Chien said "The safety of anyone at sea is the responsibility of all members of the maritime community. I am very proud of the courage and determination that has been demonstrated by the crew of Seri Begawan to rescue Mr. Roberto, and with the support and cooperation of the Philippines MRCC, we are able to ensure his successful and safe return. Safety is always at the top of our priority and MISC's seafarers regularly undergo various types of training including on saving lives at sea to ensure that we are always ready to provide our support whenever it is needed."
The efforts of Seri Begawan's crew were recognized by the Philippines Coast Guard who presented them with a Letter of Commendation for their exemplary humanitarian action.
The vessel is operated by MISC's integrated marine services arm, Eaglestar.