Migrants Still Detained Aboard Cutter at Port of Catania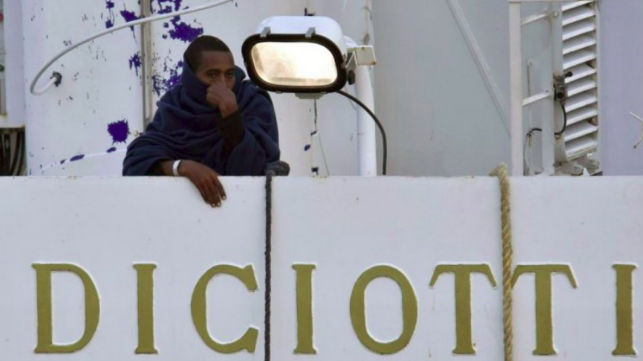 Aid group Medecines sans Frontieres reports that 27 minors have been allowed to disembark from the Italian Coast Guard cutter Diciotti, which was temporarily banned from port by its own government last week. About 150 survivors remain on board the vessel, which is alongside at the port of Catania, and Italy is attempting to negotiate with other EU states to persuade them to take them in.
Roberto Fico, president of Italy's chamber of deputies and a leader of the populist Five Star Movement, called for all the migrants to be brought on shore and later relocated within the EU. "Bargaining with the countries of the European Union can continue without any problem, but now the [people] must be able to disembark," he said in a social media post Wednesday. "For me, being president of the house means ensuring that the state never renounces fundamental principles and human dignity."
Prosecutors in the city of Agrigento, Sicily have launched an investigation into whether "unknown" entities may have broken the law by keeping the migrants detained aboard the Diciotti for an extended period. "There are migrants onboard clearly affected by scabies," said Luigi Patronaggio, the town's top prosecutor, following a visit to the ship. "They require urgent medical assistance. The situation onboard is critical."
The suspects of the investigation have not been named, but interior minister Matteo Salvini is preventing the migrants from disembarking "unless Europe steps in" to accept them first.
"I heard that the prosecutor's office in Agrigento has opened an investigation," Salvini said in a Facebook Live video. "I also heard that the suspects are 'unknown' at the moment. But I'm not unknown. My name is Matteo Salvini, I'm the minister of the interior. Come on, try me too, I'm here."
Salvini - the leader of the anti-immigration League Party - defended his decision to keep the migrants from coming ashore. "700,000 immigrants disembarked with the [previous] governments seem enough! Do they want to try me or arrest me? Do it, I'm not alone," he wrote in an accompanying statement.
Last Wednesday, the crew of the Diciotti rescued 190 migrants from an overloaded boat about 15 nm off the island of Lampedusa. 13 individuals needed emergency treatment and were medevaced to shore, but 177 remained on board.
Italy's government insisted that Malta should receive the migrants, as the rescue occurred within its zone of authority. The Maltese government declined, and the Diciotti waited at sea through the weekend while its government negotiated for a port of refuge. Italian transport minister Danilo Toninelli said Monday that his ministry would allow the Diciotti to dock at Catania, Sicily, and the vessel has been alongside the pier since.