Methanol-Ready SOVs Being Built to Service RWE's UK Wind Farms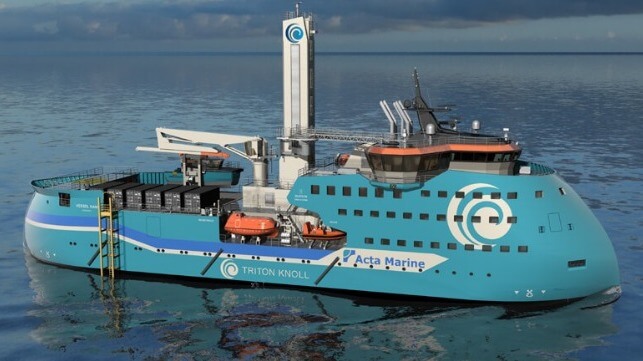 The offshore wind development operation of German energy company RWE and Dutch maritime support company Acta Marine are extending their working relationship with plans to deploy two "green" service operation vessels (SOV) to support RWE's operations in the UK. The vessels will be among the first in the world to be built capable of being powered by methanol and batteries.
The companies entered into a long-term vessel supply agreement that will contribute to the decarbonization of offshore operations. Construction of the vessels to be owned and operated by Acta Marine will begin at the Tersan Shipyards in Turkey during the second quarter of 2023. They are expected to begin operation from the Port of Grimsby in the UK in early 2025 and 2026.
The vessel will use Ulstein's next-generation design concepts for the offshore sector. They are SX216 newbuild vessels that will employ the Twin X-Stern design improving fuel efficiency, increasing dynamic positioning capability, and reducing motions and noise. According to Ulstein, the design will make the offshore stay more comfortable, efficient, and safe for technicians.
"We are very pleased to partner with RWE in deploying two of our new SOVs over a 12-year basis," said Rob Boer, Acta's Managing Director. "The ability to use e-methanol from day one of our operations with RWE drives the reduction of greenhouse gases significantly. The vessels have been designed for high-performance in-field agility while reducing power consumption as much as possible."
Tersan recently began construction on the second of two construction service operations vessels (CSOV) for Acta that are similar in design to the vessels chartered to RWE and will also be methanol-ready. The two CSOVs will be approximately 292 feet long and will be able to accommodate up to 135 people in 85 cabins. These vessels are due for delivery in the second and third quarter of 2024, and Acta reports they are designed to provide a short, efficient, and safe transfer of personnel and cargo in harsh weather conditions where the level of waves reaches up to approximately 10 feet.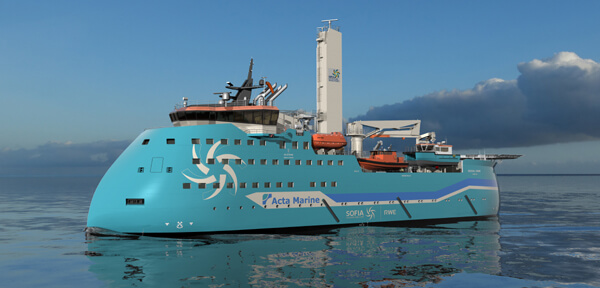 Acta is building a next-generation fleet of offshore vessels and signed a long-term charter with RWE for two methanol-ready SOVs (RWE)
When the two vessels for RWE are introduced, they will be used to support the day-to-day operations and maintenance of two of RWE's largest offshore wind projects, the newly operational 857-megawatt Triton Knoll located approximately 20 miles off the East Coast of England and the 1.4 gigawatt Sofia Offshore Wind Farm, located approximately 120 miles off the UK's North East coast, which is now under construction and due to be fully commissioned in 2026.
The SOVs will be based out of RWE's new Grimsby Hub and support the long-term operations of the offshore assets. According to RWE, the agreement will also bring further investment into the port through the use of vessel support and maintenance services, local fueling, pilotage, and other ancillary services.
"This investment in low-emissions capable Service Operations Vessels demonstrates our commitment to not only playing a major role in decarbonizing the UK's energy mix but also to supporting the green transition of our broader activities across the marine industry," said Thomas Michel, Director of Offshore Wind Operations at RWE Renewables.
The low-carbon collaboration also marks a tangible step forward for the vision of Operation Zero, an industry coalition working towards the deployment of zero-emission operations vessels and infrastructure in support of the North Sea offshore wind sector from 2025. Operation Zero was launched by the UK Department for Transport and the ORE Catapult at COP26, and was signed by RWE.