Metal Shark Buys Horizon Shipbuilding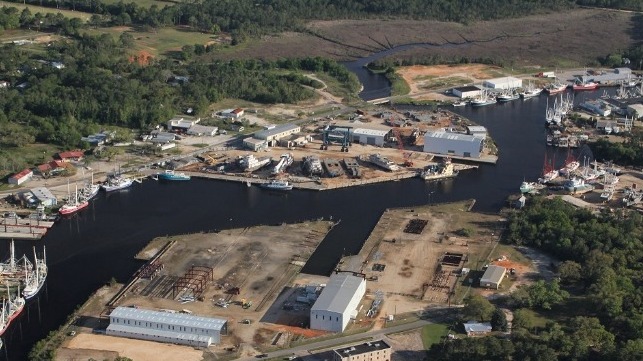 Louisiana-based boatbuilder Metal Shark has acquired the assets of competitor Horizon Shipbuilding in a bankruptcy proceeding.
Metal Shark will receive Horizon's yard in Bayou La Batre, Alabama, along with the majority of Horizon's physical assets, leases, permits, intellectual property and business operations. In return, Metal Shark has agreed to pay Horizon $525,000 in cash plus a $500,000 purchaser's note, and will assume roughly $5.8 million of Horizon's outstanding debts.
Horizon Shipbuilding will keep the ownership of all partially completed hulls that were ordered for the NYC Ferry fleet, along with the right to receive any monies owed for Horizon's NYC Ferry contract. Last September, Horizon announced that the revenue from building the ferries was not enough to support continued "normal day-to-day operations," and the firm filed for bankruptcy shortly thereafter.
Moving into steel
Metal Shark specializes in aluminum-hulled vessels of up to 250 feet in length, and it builds hundreds of small craft every year for military and law enforcement customers. With the acquisition of Horizon's yard, it hopes to expand into the construction and repair of larger steel vessels. The yard has a 35-acre shipbuilding facility with nine assembly buildings, a 660-ton Travelift, multiple cranes, CNC plasma cutters and welders. It is capable of building steel and aluminum vessels up to 300 feet in length and 1,500 tons launch weight.
"As we add steel vessels to our already broad range of aluminum craft, we will offer everything from a sixteen-foot aluminum skiff to steel vessels up to 300', and virtually everything in between," said Metal Shark CEO Chris Allard. "We will also begin to separate our boatbuilding and shipbuilding efforts and recognize them as different entities."
Horizon's CEO, Travis R. Short, will join Metal Shark after the acquisition as an executive vice president. "After a long run at Horizon, I am pleased to enter this next phase by joining this team and by bringing our Alabama yard into the Metal Shark family," said Short in a statement.