Merchant Ships Including Maersk and Hapag Caught in Gabon's Coup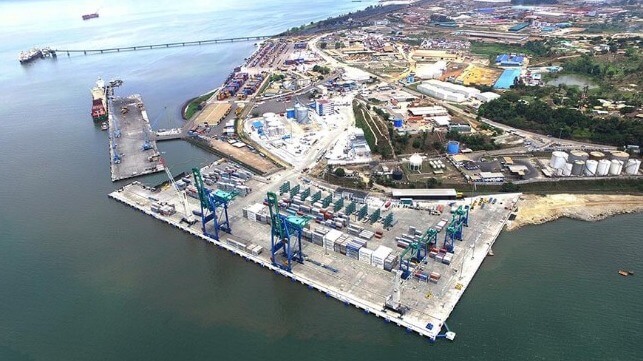 Multiple merchant ships, including containerships operating for Maersk and Hapag-Lloyd, are reportedly caught in the unfolding coup in the central African country of Gabon. Military leaders declared that the borders and all government institutions were closed as they announced the "retirement" of the country's long-serving President Alli Bongo Ondimba and were reported to be meeting to decide the future leadership of the country.
The situation remains confused with the coup that began to unfold this morning, August 30, just hours after Bongo was declared the winner of a broadly contested national election, his third as president. He and his father before him have ruled Gabon since 1967, just seven years after the country became independent from France.
Reports are showing military vehicles in the streets of the capital city of Libreville and the smaller southern city of Port Gentil. Security consultants Ambrey reported that they could confirm that Libreville port operations have been stopped.
The opposition had been contending that there were irregularities in the recent national elections. After a delay, the committee overseeing the election announced this morning that it had not found any irregularities. It reported that Bongo had won a third term with just over 64 percent of the vote.
Military officers took to the national TV declaring that the election was voided and that they were meeting to form a new government. They urged calm as the situation was resolved saying that they would be closing the borders at this time. Bongo released a taped video saying he was under house arrest while a military leader told the French press Bongo was a Gabonese citizen with all the same rights. Some media reports are now saying that the military however quickly arrested Bongo's son and six associates on accusations of "high treason."
Gabon is home to mineral and oil exports with multiple bulkers and tankers showing as anchored offshore. French mining company Eramet, which operates a large manganese facility, reported that it had immediately suspended its operations. Australia's Fortescue Metals Group is reportedly also developing an iron ore mining operation in the country. However, Ambrey is reporting that Assala Energy which operates an offshore terminal has so far been able to continue operations. TotalEnergies and Perenco have oil operations in the country which is reported to produce 200,000 barrels of oil a day.
Hapag-Lloyd confirmed to Reuters that it has a vessel at Libreville. The Dallas Express (67,145 dwt), a Liberian registered containership, shows on its AIS that it is in the anchorage, with a spokesperson telling Reuters that the vessel was unable to depart due to the borders having been closed. In addition, the Maersk Valparaiso (23,359 dwt) a Singapore-registered feeder ship working on the African coast is also in the anchorage.
Bollore reported in October 2017 that it had opened the modernized New Owendo International Port near Libreville after an investment of $300 million. The capacity of Owendo's multipurpose terminal was expanded along with lengthening the dock, dredging, and new cranes able to handle containerships with a capacity of up to 6,000 TEU.
AIS signals show that a Chinese-owned bulker, Lin Hai 6 (52,500 dwt) registered in Panama is on dock at Owendo. In addition, a chemical tanker registered in Denmark, Caroline Theresa (78,800 dwt) owned by Christiania Shipping is also on dock at the terminal.
Gabon is a dangerous place for seafarers even without a coup. In May, three crewmembers from Eagle Bulk's Grebe Bulker were kidnapped while the vessel was at anchor. They were released after about three weeks.
Bongo is calling on his supporters to rise up. He was able to stop a previous coup attempt in 2019 and the elections in 2016 were also disputed. Today's attempted coup follows the overthrow of the government in Niger. Reuters is saying that this is the ninth coup in France's former African colonies, including Mali, Guinea, Burkina Faso, Chad, Tunisia, Niger, and now Gabon, in the past three years.