On Memorial Day, May 29, the U.S. pauses to honor those gave their lives for their country.
"Memorial Day is our Nation's solemn reminder that freedom is never free," said U.S. President Donald Trump. "It is a moment of collective reflection on the noble sacrifices of those who gave the last measure of devotion in service of our ideals and in the defense of our nation. On this ceremonious day, we remember the fallen, we pray for a lasting peace among nations, and we honor these guardians of our inalienable rights.
"This year, we commemorate the centennial anniversary of America's entry into World War I. More than 4.7 million Americans served during The Great War, representing more than 25 percent of the American male population between the ages of 18 and 31 at the time.
"We remember the more than 100,000 Americans who sacrificed their lives during "The War to End All Wars," and who left behind countless family members and loved ones. We pause again to pray for the souls of those heroes who, one century ago, never returned home after helping to restore peace in Europe.
"On Memorial Day we honor the final resting places of the more than one million men and women who sacrificed their lives for our nation, by decorating their graves with the stars and stripes, as generations have done since 1868. We also proudly fly America's beautiful flag at our homes, businesses, and in our community parades to honor their memory. In doing so, we pledge our Nation's allegiance to the great cause of freedom for which they fought and ultimately died."
Memorial Day - Arlington National Cemetery
World War I
The U.S. Coast Guard held a Memorial Day observance commemorating the loss of the Coast Guard Cutter Tampa and its crew in World War I.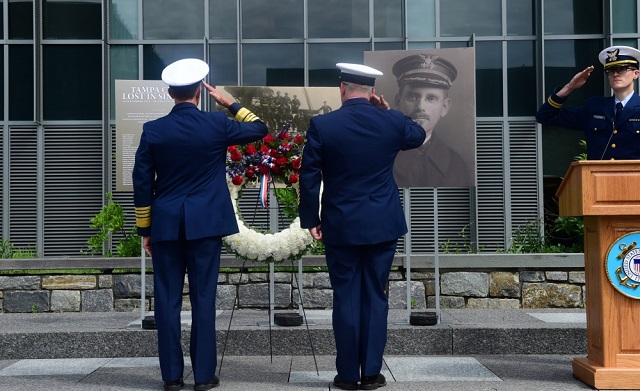 The Coast Guard Cutter Tampa was a 190-foot cutter launched in 1912 and was part of Squadron 2 of Division 6 of the Atlantic Fleet Patrol Forces. It was based in Gibraltar with a mission to protect ship convoys from submarine attacks, as the 1917 Espionage Act gave Coast Guard Captains of the Port power to protect domestic ports from sabotage.
The Tampa was escorting a convoy to Wales and parted company with the convoy in the afternoon of September 16, 1918. The Tampa was never seen again, the victim of a torpedo attack that evening. A few pieces of wreckage were found, along with two unidentifiable bodies in naval uniforms. The Tampa carried 111 Coast Guardsmen, four Navy men, a captain and 10 seamen of the Royal British Navy, and five civil employees who were on board the cutter. There were no survivors of the 131 persons on board.
The loss of the Tampa was the greatest single casualty incurred by a naval unit as a result of known enemy action. Its convoy escort duty with the Atlantic Fleet was a forerunner to more escort duties in World War II. In addition to the protection of American ports from sabotage, the Espionage Act also gave the Coast Guard power to supervise domestic vessel movements, establish safe anchorages and restricted areas, and the right to control or remove passengers or crew from ships, all of which are responsibilities for today's modern Coast Guard.
World War II
Submarine Group 9 sailors, veterans and visitors gathered in remembrance of the sailors and submarines that were lost during war at a "Tolling the Boats" observance held at Naval Base Kitsap's Deterrent Park.
A total of 65 U.S. submarines have been lost since 1915, with 52 lost during World War II. These 52 submarines included 374 commissioned officers and 3,131 enlisted members who were lost at sea.
During the ceremony, a short description of what happened to each submarine is read, followed by the number of sailors lost on the boat. A ceremonial bell then is rung in memory of each submarine as part of the observance.
"We can't ignore our past," said Navy Capt. Ted Schroeder, chief of staff of Submarine Group 9. "It's important to remember where we came from and to honor the men and women whose legacy we've inherited."
"We wouldn't have the freedoms today without the sacrifices of the families and the heroes that we are remembering today," said Navy Chief Petty Officer Jonathan Corcoran.
The Navy Gold Star program provides long-term support to surviving families of fallen Sailors while on Active Duty.
History of Memorial Day
Nine Things You Probably Didn't Know About Memorial Day here.