Melbourne's Port Good for Another 40 Years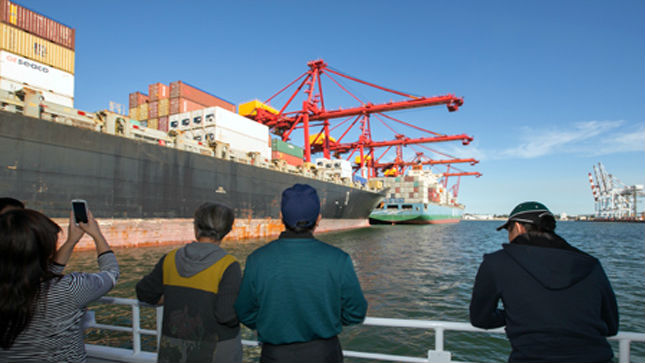 Australia's state government for Victoria has received advice that a second major container port should be built near Werribee rather than at the existing Port of Hastings, but not for another 40 years.
A new container port will not be required until capacity at the Port of Melbourne reaches approximately eight million TEUs, which is likely to be around 2055, advises Infrastructure Victoria, and Victoria's existing commercial ports should be optimized before any investment is made in a second major container port.
The advice follows a request from the Special Minister of State in May 2016 for Infrastructure Victoria to develop independent advice on when to invest in container port capacity and whether a second container port should be located at the existing Port of Hastings or a new Bay West location.
Infrastructure Victoria Chief Executive Officer Michel Masson said Bay West was preferred over Hastings because it had strong transport, land use, environmental and amenity advantages. Bay West can initially handle overflow container capacity, but is also well suited to becoming Melbourne's future container port in the longer term, Masson said.
He says it is the optimal location for most of Victoria's exporters, as it would help keep their supply chain costs down. "While achieving the necessary environmental approvals and outcomes will be complex, it is likely this would be even more challenging at Hastings."
Infrastructure Victoria has recommended some immediate actions to protect the Bay West location for future port use, including land reservation and transport corridor protection.
Masson said increasing capacity at the Port of Melbourne to eight million TEU would require a holistic approach to ports planning and would require some existing trades to be relocated to Victoria's other commercial ports.
"The Port of Hastings will be an important part of Victoria's future commercial port network and is particularly well suited to handling automotive trade, while the Ports of Geelong and Portland could grow their existing trades and support emerging supply chains.
Infrastructure Victoria's advice to government included 19 recommendations, with several directed specifically at ensuring the Port of Hastings can realize future opportunities. This includes removing legislative barriers that currently limit the Port of Hastings ability to attract new customers and increase trade.
The 19 recommendations are based around six key themes:
* monitor and publicly report on key port related indicators
* optimize the capacity of existing ports
* understand the variables that may alter planning timelines
* preserve long-term port options
* baseline and monitor environmental conditions
* optimize governance of Victorian ports
The Australian Logistics Council (ALC) says it "broadly agrees" with Infrastructure Victoria's advice. Managing Director Michael Kilgariff says it reflects ALC's submission that stated the Port of Melbourne should be able to operate as efficiently as possible for as long as possible. He says that necessary infrastructure including a port-rail shuttle must be not be delayed because of a non-pressing need for the second major port in Victoria.
Infrastructure Victoria's advice is not binding.