Meet the Coast Guard's Sharpshooters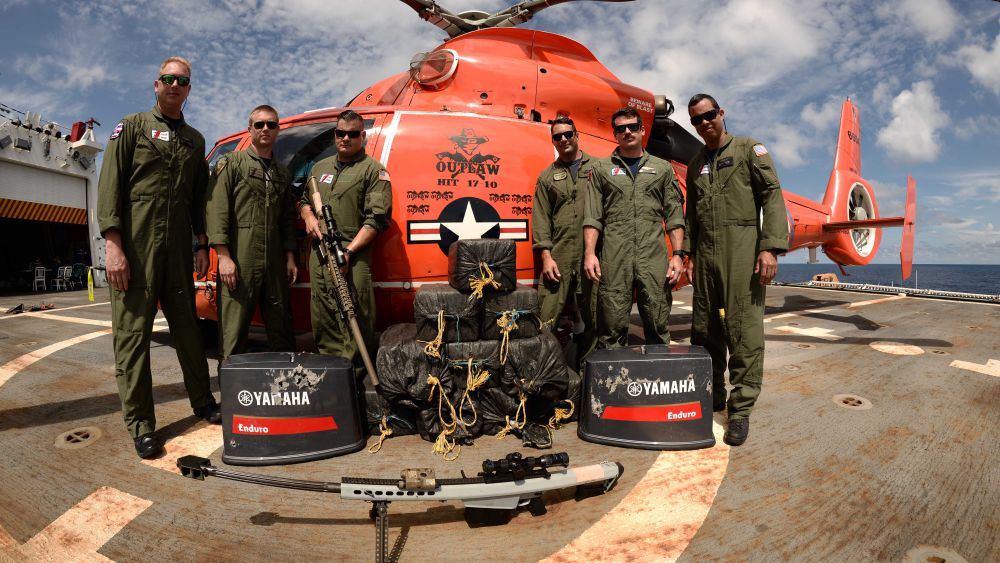 The Coast Guard's Helicopter Interdiction Tactical Squadron (HITRON) marked its 500th drug interdiction when a deployed crew stopped a drug-laden go-fast vessel at 0130 hours Saturday in the Eastern Pacific.
This is a historic benchmark for the Coast Guard: HITRON has successfully interdicted 500 vessels transporting approximately 422,000 kilograms of cocaine and 27,000 kg of marijuana with a wholesale value of more than $16.7 billion. HITRON was commissioned in 2000 with the specific mission to pursue and stop suspect go-fast vessels and halt the flow of illegal drugs into the U.S. with armed helicopters operating aboard Coast Guard cutters and land-based facilities in the southern area of responsibility.
"This achievement is a direct reflection of the training, perseverance, and teamwork from our aircrews, support personnel and other deployed forces and partner agencies that support this dynamic mission and work together to achieve remarkable results in a joint effort countering illegal drug smuggling," said Capt. Kevin P. Gavin, HITRON's commanding officer.
HITRON helicopters operate in known smuggling vectors and rely on expertly trained aircrews and precision marksmen to disable go-fast drug smuggling vessels in the event suspects refuse to comply with verbal and visual warnings for law enforcement boardings in accordance with international maritime law.
The previous three fiscal years were record setting years for HITRON in which crews continued to surpass the previous year's total interdictions and seizures. In FY2016, HITRON and its partner agencies successfully interdicted or stopped 83 vessels and 73,550 kg of cocaine valued at nearly $2.8 billion.
This article appears courtesy of Coast Guard Compass and has been edited for length. It may be found in its original form here.