Matson Orders Third LNG Conversion for Existing Containerships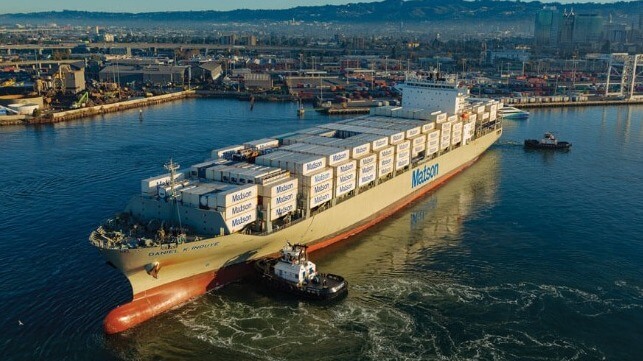 Matson Navigation Company exercised an existing contract option with MAN PrimeServ to proceed with the conversion of another of the line's containerships to dual-fuel LNG operations. The project which is scheduled for 2024 for the Kaimana Hila (51,400 dwt) follows the ongoing project to convert her sistership Daniel K. Inouye and a planned more extensive dual-fuel re-engine project for the Manukai (29,517 dwt). Matson has budgeted $130 million in capital expenditures for the conversions in addition to the $490 million budgeted for three LNG-powered newbuilds ordered last year from Philly Shipyard.
MAN reports that the project for both the Daniel K. Inouye and later the Kaimana Hila will convert the main engine from a MAN B&W S90ME-C10.5 unit to a dual-fuel ME-GI unit capable of running on LNG. The vessels are 854 feet long with a capacity of 3,220 TEU. The project will make Matson among the first containership operator to undertake the conversion of a large vessel from conventional diesel power to LNG.
The Daniel K. Inouye arrived in Nantong, China in mid-January to begin the conversion which is scheduled to last approximately five months returning the ship to service in the middle of this year. The sisterships, which were built in 2018 and 2019, were introduced according to Matson before commercial supplies of LNG were available so they elected to outfit the ships with LNG-capable dual-fuel engines in anticipation of their eventual conversion. The scheduled projects include installing the LNG fuel tanks, piping, and the additional required equipment conversion to enable dual-fuel operations.
The conversion process for the Kaimana Hila is currently expected to start in the second quarter of 2024. It is also projected to last five months with Matson estimating the cost for each of the projects at approximately $35 million. The conversion is expected to reduce each vessel's CO2 emissions by 24 percent.
Rendering of the vessels after the LNG tanks are installed (Matson)
"This order is the latest example in an increasing trend of owners choosing dual-fuel retrofits for their existing vessels in service to achieve fleet-transformation goals while simultaneously gaining benefits in terms of upcoming regulations such as CII and EEXI," said Klaus Rasmussen, Head of Projects and PVU Sales, MAN PrimeServ. "Retrofitting a MAN B&W engine to dual-fuel running is straightforward as our standard, electronically-controlled diesel engines are constructed as 'dual-fuel ready' and therefore readily retrofittable. Such retrofits offer a viable pathway to shipowners that wish to achieve a net-zero carbon footprint by 2050."
Following the completion of the conversion of the Daniel K. Inouye, Matson has scheduled a year-long drydocking for another of its vessels, the Manukai for a re-engining program. Built in 2003, the 711-foot vessel with a capacity of 2,378 TEU was outfitted with a MAN B&W 8K80MC-C main engine manufactured by Hyundai Heavy Industries. Matson is investing an estimated $60 million in her conversion.
"As a company that cares deeply about the environment, Matson is committed to reducing its carbon footprint through numerous short and long-term goals, including a 40 percent reduction in CO2 emissions by 2030 and net-zero CO2 emissions by 2050," said Matt Cox, chairman and chief executive officer. "Conversion to LNG is a big step toward achieving these goals."
Matson ordered in November 2022 three additional Aloha class containerships, sisterships to the Daniel K. Inouye and Kaimana Hila, to be built by Philly Shipyard that will be LNG-ready when they are delivered in 2026 and 2027. In addition, the two Kanaloa Class con-ro vessels (51,00 dwt), the Lurline delivered in 2019 and the Matsonia in 2020, were also outfitted with LNG-capable duel-fuel engines in anticipation of their eventual conversion.