Thorco Lineage's Master Convicted for Failure to Report Casualty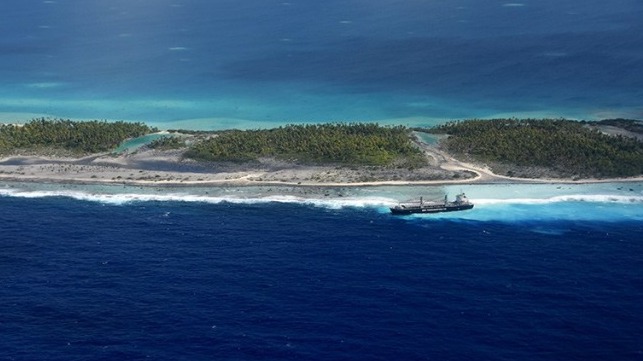 The master of the freighter Thorco Lineage has been convicted of failing to notify authorities of an engine failure prior to the vessel's grounding on a reef at Raroia, French Polynesia last year.
Capt. Lazaro Valenzuela has been given a suspended sentence of one year's imprisonment, and he will share a $240,000 fine for the casualty with vessel operator Sinbanali Shipping. The accused have accepted the judgement and do not plan an appeal.
On June 21, 2018, the Thorco Lineage was under way from Baltimore to Tasmania with a cargo of 20,000 tonnes of zinc oxide when she lost power near Raroia. The vessel drifted towards the island and ran aground on a reef that night. According to Polynesian media, authorities learned of the casualty from the island's inhabitants, who discovered the vessel on shore on the morning of the 22nd.
(Courtesy Flotille 25F)
The French naval tug Bougainville arrived at Raroia to refloat the vessel on June 26, and after a series of attempts, she managed to pull the freighter off the shoals. However, the Bougainville's towline parted shortly thereafter, and the Lineage went adrift for a second time. With the assistance of a second tug, the Aito Nui, the salvage team eventually brought the Thorco Lineage into port at Papeete, Tahiti on July 3.
When she was refloated, the High Commission of French Polynesia reported that the Thorco Lineage was damaged but intact, "without water leakage or leakage of pollutants." A dive inspection revealed no punctures, and the vessel was towed from Papeete to South Korea for permanent repairs. She has since returned to commercial trading.