MARAD Will Provide $662M in Port Infrastructure Grants in 2023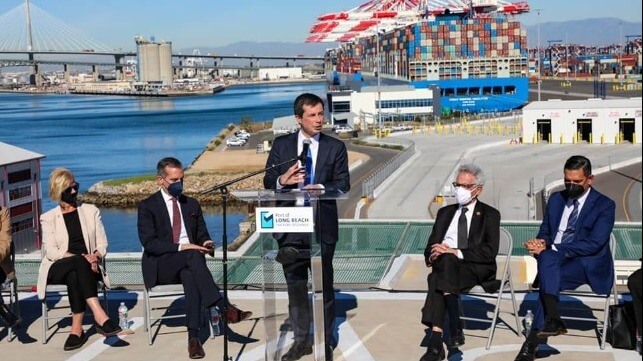 The United States Maritime Administration will be making an additional $662 million in grants in FY 2023 under its Port Infrastructure Development Program (PIDP) as part of the Biden Administration's commitments to strengthen the supply chains after the port delays that resulted over the past few years. This year's grants are in addition to over $700 million awarded in 2022 and more than three times the $2300 million in 2020 grants.
MARAD says the PIDP investment will modernize the nation's ports and help strengthen supply chains for generations to come, helping to reduce shipping time, costs, and ultimately the costs of goods for the American people. They noted that the funding exceeds the $450 million annually in funding for the program under the 2020 infrastructure package.
"America's ports play a central role in our supply chains," said U.S. Transportation Secretary Pete Buttigieg. "With today's announcement, we are helping make our ports safer, more efficient, and more reliable—strengthening supply chains, reducing costs for the American people, and positioning us for economic success."
MARAD's Port Infrastructure Development Program provides discretionary grants to help port authorities, states, local governments, and other eligible entities complete critical port and port-related infrastructure projects. Grants are awarded on a competitive basis to support projects that improve the safety, efficiency, or reliability of the movement of goods through ports and intermodal connections to ports. MARAD will also consider how projects address climate change and sustainability, equity, and workforce development objectives.
"This funding will support efforts by ports and industry stakeholders to improve port and related freight infrastructure to meet the Nation's freight transportation needs and ensure our port infrastructure can support future growth," said Maritime Administrator Ann Phillips. "The program also includes a statutory set-aside for small ports to continue to improve and expand their capacity to move freight reliably and efficiently, support local and regional economies, and support supply chain improvement."
Recent projects funded include funding for the installation of fast charging stations and other port electrification components and the development of a scalable plan for transitioning port and local maritime industry to zero-emission technologies. They also supported intermodal projects and port expansion. A total of 41 projects in 22 states and one territory received grants in 2022 to improve port facilities.
Applications for port projects are due by April 28. In addition, the Federal Highway Administration is also going to make $160 million available under its Reduction of Truck Emissions at Port Facilities program. Those projects will target efforts to test, evaluate, and deploy projects that reduce port-related emissions from idling trucks, including through the advancement of port electrification and efficiency improvements.