MAN ES Runs its First Ammonia Test Engine, Sees Burgeoning Market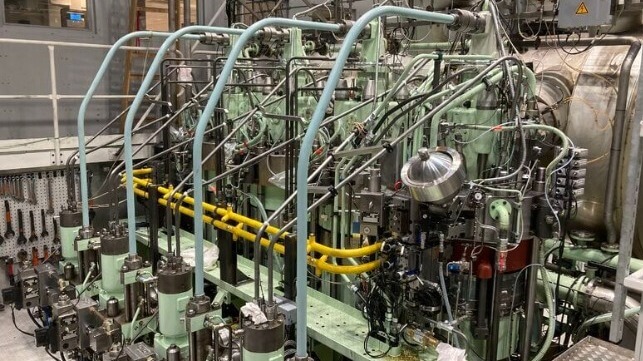 On Thursday, MAN Energy Solutions announced the first running of one of its two-stroke engines on ammonia at a test facility in Copenhagen. The results were positive, and particularly so when regarding pilot-oil consumption and combustion stability.
It follows hot on the heels of first successful ammonia combustion in the same engine, which MAN announced while delegates gathered in London for key IMO climate talks. Interest in the breakthrough has been "overwhelming," according to Bjarne Foldager, the company's Head of Two-stroke Business.
"This marks a major milestone on our road to developing a full-scale two-stroke ammonia marine engine. It's been a historic week for our team at the RCC where a lot of groundwork and research has now paid off and we have gained a deep understanding of ammonia's unique characteristics as a marine fuel," said Gunnar Stiesch, Chief Technical Officer at MAN Energy Solutions.
Safety has been key, the company said. The company's precautions include the construction of a custom-built "cold hall," which has a water screen to contain ammonia vapor in the (unlikely) event of a leak. Proven dual-fuel engine safety systems like double-walled piping and system ventilation have also been built into the engine design.
Ammonia has been in testing as a marine fuel for some time. Wärtsilä began running progressive amounts of ammonia fuel in a four-stroke in 2020, and Japan Engine followed suit in 2023. Japan Engine also reported in April 2023 that it has begun co-firing ammonia in a two-stroke engine (alongside fuel oil).
MAN is already making marketing plans for its first ammonia-fueled engine. According to Thomas S. Hansen, the firm's Head of Promotion and Customer Support, the first commercial example will be a 60-bore engine, which has a wide range of vessel applications. The first example should be delivered for vessel installation in 2026. "The interest in this engine is very high and we have received many queries across basically all large merchant-marine vessels. MAN Energy Solutions expects a quick uptake of ammonia-fueled engines towards the end of the current decade," he said.
In the interim, though, there is still R&D to be done. In the months to come, MAN's research team will examine heat-release, ignition, pilot-oil energy fraction, and (key for compliance) NOx and N20 emissions. They will also rebuild the test engine to use ammonia on all of its cylinders, as the first test series used just one. A full-scale test engine should be up and running on ammonia by early 2024, according to Brian Østergaard Sørensen, MAN VP and Head of Research & Development, Two-Stroke.
"Our expectations for ammonia are positive owing to its predicted lower production cost compared to other, relevant e-fuels; we foresee around 27 percent of fuel used onboard large merchant-marine vessels to be ammonia by 2050," Sørensen concluded.