Major Blow to Vietnam's Fight Against Wildlife Crime
In a serious set-back to Vietnam's efforts to crack down on wildlife crime, the authorities have postponed the enactment of a new penal code that was due to come into force on July 1.
The new code imposes stricter penalties for people found guilty of illegally killing wildlife as well as illicitly trafficking wildlife or wildlife products. In addition, the code no longer defines the seriousness of a crime solely by monetary value, but also by the weight or number of illegal wildlife products seized, making it far easier to prosecute offenders.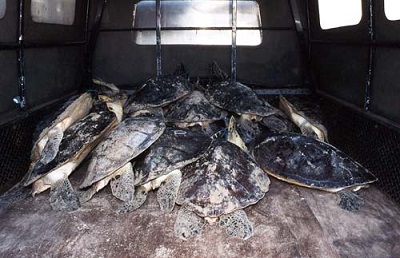 Critically, the regulations also protect rare and endangered species that are not indigenous to Vietnam, which will enable the country – long regarded as a major transit hub in the global illegal wildlife trade chain as well as an important source and consumer country – to play a more significant role in international efforts to end wildlife crime.
Inadequate enforcement of current laws has enabled wildlife crime to flourish. The Convention on the International Trade in Endangered Species of Wild Fauna and Flora (CITES) requires Vietnam to demonstrate greater commitment to stamping out the illegal trade in rhino horn – as the country is the world's largest consumer – and report back on its progress at the organization's next meeting in South Africa in September.
Meanwhile, the Wildlife Justice Commission has submitted a dossier to the Vietnamese government regarding an organized criminal network engaging in transnational trade in wildlife products from many endangered species, including rhino horn, ivory and tiger parts.
However, there is increasing high level political will in Vietnam to tackle the serious threat posed by wildlife crime. Last year, Vietnam endorsed the historic U.N. General Assembly Resolution against wildlife trafficking, and it will host an international conference on illegal wildlife trade in November.
Furthermore, Secretary General of the Communist Party of Vietnam, Nguyen Phu Trong, and U.S. President Barack Obama jointly referred to illegal wildlife trade as a security threat, listing it alongside other critical concerns such as economic cooperation, human rights and climate change.
"WWF and TRAFFIC regret the last minute postponement of the new penal code because wildlife criminals would have faced far stricter penalties," said Dr Van Ngoc Thinh, Country Director of WWF-Vietnam. "However, the delay allows for revisions to the code, which could further strengthen the anti-poaching and trafficking regulations."
TRAFFIC and WWF continue to encourage a culture of corporate social responsibility and environmental protection throughout Vietnamese society.