Maersk Plans Unified Identity Ending Hamburg Sud and Sealand Names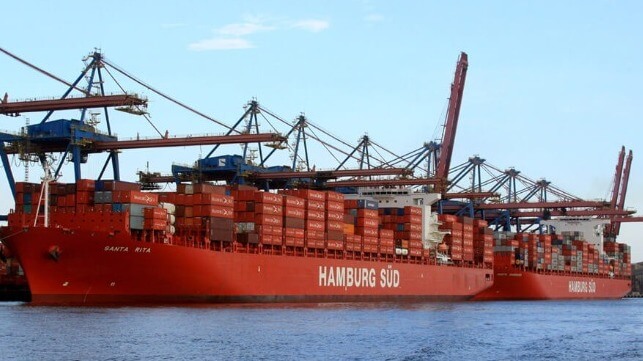 Maersk announced its intentions to move to a single brand identity as it works to integrate recent acquisitions and its multiple brands as the corporation continues the move toward its vision of a global logistics provider. In its aim to unify its brands and structure, storied brand names including Hamburg Sud and Sealand as well as Twill, a freight logistics service for small and medium-sized businesses launched by Maersk, and newly acquired brands like Senator and LF Logistics will be phased out.
"We realize that our current brand structure doesn't reflect the way you, our customer, have your supply chain structure and the need you have for end-to-end visibility and ability to drive outcomes," Maersk writes in a customer advisory on the intent to integrate its brands. They however said that an in-depth review will be conducted to conclude the future of each brand in different geographies and that the timeline would be determined individually for each brand.
The move comes after Maersk made the high-profile acquisitions of leading logistics providers over the past few years and the retirement of CEO Soren Skou at the beginning of the year. Vincent Clerc was elevated to the position of CEO on January 1 and moves quickly launching changes including naming a new management team. Earlier this week, Maersk also said it would be ending the eight-year alliance with MSC known as 2M in 2025.
The decision to phase out the well-known names in the shipping industry follows similar moves by other large carriers. In July 2020, CMA CGM announced it was also unifying its operations transition APL to focus solely on U.S. operations while NOL and ANL Container Line were merged into CMA CGM.
Hamburg Sud, acquired by Maersk in 2017, is one of the most historic names in the shipping industry dating back to 1871 when it was founded by Hamburg and English merchants. The company started with service from Hamburg to Buenos Aires and the Rio Plata region and continues to be a major carrier to Brazil, Argentina, and Uruguay. By the late 1950s, they had launched a subsidiary, Columbus Line, and grew to routes to North and South America as well as Oceania.
Sealand is an equally well-known brand that traces its roots to an American trucking entrepreneur, Malcom McLean, who is credited as the inventor of the modern container and container shipping. McLean sold the company in 1969 and after a series of owners, it was acquired by Maersk in 1999.
"We see an opportunity to provide an even greater, simpler integrated logistics offering for our customers," writes Maersk. "Our multi-brand approach has served us well over the years and all our brands have been successful in meeting the needs of customers. However, we know that having multiple brands creates complexity for our customers. Now is the right time to leap further into a unified brand to provide our customers with truly integrated logistics."
Maersk highlights that the move is not a cost-cutting effort but a global branding program designed to highlight the benefits of the unified logistics network. Brands that have not been integrated into the global strategy and follow a different business model, including APM Terminals, Maersk Container Industry, Svitzer, Maersk Supply Service, Maersk Training, and Maersk Line Limited will continue to operate under their existing brand names.