Maersk Plans First Methanol Retrofit for In-Service Containership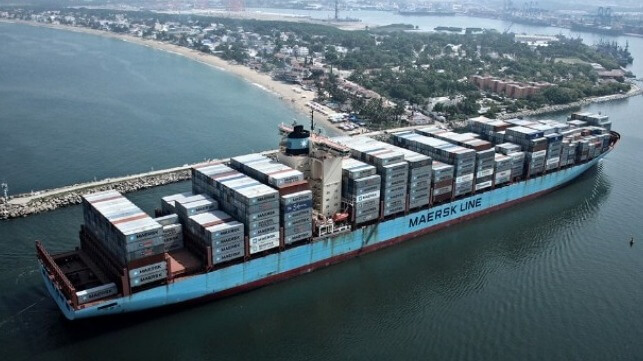 Maersk, which has been leading the shipping industry in the efforts to adopt methanol as a marine fuel, is planning the next major step, the conversion of an existing vessel to dual-fuel methanol capabilities. The shipping giant reports that engineer work is underway and discussions with potential shipyards for a conversion expected to take place in mid-2024.
"Retrofitting of engines to run on methanol is an important lever in our strategy. With this initiative, we wish to pave the way for future scalable retrofit programs in the industry and thereby accelerate the transition from fossil fuels to green fuels. Ultimately, we want to demonstrate that methanol retrofits can be a viable alternative to new buildings," said Leonardo Sonzio, Head of Fleet Management and Technology at Maersk.
Maersk in 2021 placed the first orders with MAN Energy Solutions for methanol dual-fueled engines to be used on containerships. As part of the order for the first methanol-fueled feeder ship, which is entering service later this year, Hyundai Heavy Industries, which already had experience with methanol engines working with MAN, agreed to build the MAN B&W 6G50ME-LGIM (Liquid Gas Injection Methanol) type as part of the order. Hyundai's Ship-Building Division followed the initial order with an agreement for eight MAN B&W 8G95ME-LGIM (Liquid Gas Injection Methanol) engines for Maersk's follow-on order for the eight 16,000 TEU container ships due to start service in 2024.
Maersk reports it has also been working with MAN on the requirements to retrofit an existing engine. MAN is independently developing retrofit concepts including with Norwegian Cruise Line for the company's cruise ships.
"We have explored the potential in retrofitting existing vessels with dual-fuel methanol engines. Having teamed up with MAN ES, we are now ready to demonstrate how retrofitting vessels with methanol dual-fuel capabilities can be done," said Sonzio.
According to Maersk, replacing engine parts and thereby making the engine able to operate on methanol is "a rather complex task." The conversion also requires elements including new fuel tanks, a fuel preparation room, and a fuel supply system.
So far, the industry has only attempted a few conversions of traditional fuel oil engines. Hapag-Lloyd undertook one of the first conversions for a vessel that was designed to be LNG-ready but later reported that the high cost of the project made other conversions cost prohibitive. TOTE also delayed but is now completing its planned conversion to LNG for two vessels and work is also underway with MAN for the conversion of the first of two Matson vessels also designed for a conversion to LNG.
Maersk reports this will be a demonstration project to show the potential for methanol conversions and also provide critical information on the process. The company intends to undertake similar conversions on sister vessels when they are going for special surveys in 2027. Maersk's goal is to make tangible results by 2030 in its efforts to align with the Paris climate accord and by 2040 achieve net-zero operations.