Lockheed Delivers First Production LRASM Anti-Ship Missiles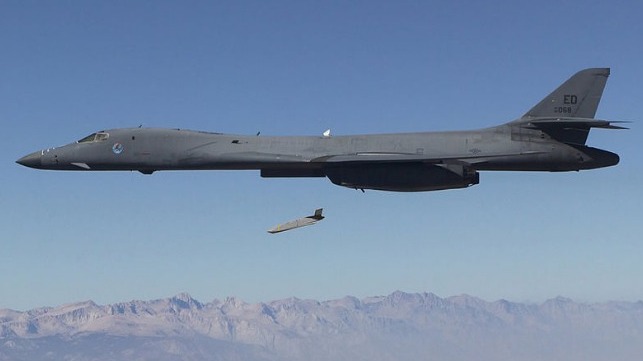 Defense contractor Lockheed Martin has delivered the first production units of the next generation Long Range Anti-Ship Missiles (LRASM) to front-line strategic bomber wings of the U.S. Air Force, ahead of the expected schedule for its early operational capability.
LRASM is a stealthy anti-ship missile based on Lockheed's existing Joint Air-to-Surface Standoff Missile – Extended Range (JASSM-R), and it is designed to detect and destroy specific targets within groups of ships. It deploys several advanced technologies to reduce dependence on ISR platforms, network links and GPS navigation in contested environments, making it less vulnerable to electronic warfare interference. The Navy awarded Lockheed the contract to develop it on an accelerated basis in order to offset the vulnerabilities of its aging Harpoon anti-ship missiles, which do not have the range, speed or guidance capabilities of modern competing designs. In particular, according to former U.S. PACOM Commander Adm. Harry Harris, Russia and China are developing naval capabilities that must be countered with a more sophisticated long-range anti-ship missile.
"This event is the culmination of successful partnerships with the U.S. Air Force, Navy and DARPA," said David Helsel, LRASM director at Lockheed Martin. "This milestone serves as a great example of collaboration to bring critical capabilities to the warfighter at accelerated acquisition timelines.
The air-to-surface version of LRASM will be deployed with both the U.S. Navy and the U.S. Air Force. The USAF will deploy it aboard the B-1B strategic bomber, which is already fitted to launch the comparable JASSM-R missile. LRASM is on schedule to achieve EOC on the U.S. Navy's F/A-18 E/F Super Hornet in 2019.
While Lockheed holds the contract for the accelerated acquisition of a stopgap weapons system, the Navy is conducting an open competition for both air-launch and surface-launch variants to enter service in the mid-2020s. LRASM will be part of that bidding process, and it will likely compete with Kongsberg's air-launched Naval Strike Missile and an updated version of the venerable Tomahawk platform. Lockheed has already tested a surface-launch variant of LRASM from standard Mk 41 vertical launch system tubes aboard the test ship known as ex-USS Paul F. Foster.