Local Manufacturing, Local Control
Supplier creates success by keeping the work close to home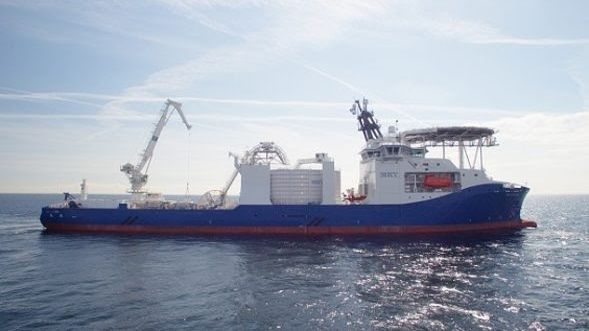 Common belief would have it that a manufacturer of marine equipment should keep engineering and design at their home office, locate their production overseas and hand over installation to shipyards. Not so for MAATS Tech, the world's top designer and builder of large cable-laying carousels – the drums that hold flexible pipe or electrical cable as it is paid out over the side.
This equipment is sophisticated and complex, and it is the heart of each cable-layer. MAATS retains full control over the process of design, construction and installation, including a cooperative design service for each vessel's scantlings. This helps the firm ensure that the ships meet stability and structural requirements when loaded with thousands of tons of flexible pipe. "Our products influence the stability and strength of the vessel. We work with the designer from day one," says Steve Bell, the firm's head of FE analysis. "We then liase with class to gain approval – an added service that helps get projects to completion."
An in-house naval architecture / marine engineering division also allows MAATS to offer its expertise for consulting, including design services for new ships, conversions, and custom deck equipment. This provides a second line of business to fill up the division's work schedule in between carousel projects, and it allows the firm to leverage its experience with finite element analysis.
For manufacturing, each carousel is built by one team at a long-term partner's factory in the UK. These skilled workers travel with the carousel to the shipyard when it is complete to handle its installation. There is no hand-off to the shipbuilder: the same people who built the equipment help put it on the vessel – reducing risk and ensuring quality. Bell says that MAATS has turned down requests to build its carousels under license at overseas yards; the firm sees no need to change a very successful business model.
Offshore is down, but business is up
Flexible pipelay vessels are used for installing subsea production facilities and export pipelines, among other oil and gas projects. As the offshore sector is still in the throes of a deep downturn, the demand for carousels might be expected to be weak. But Bell says that this is not so: the same equipment can be used for laying electrical cables to connect up offshore wind farms and to run underwater transmission lines. MAATS Tech's new cable-layer NKT Victoria, built at Kleven Shipyard for NKT, made waves last month when she was named Nor-Shipping 2017's Ship of the Year. She is built with two carousels – one on deck with a capacity of 7,000 tonnes and one rated at 4,500 tonnes mounted below.
The continued demand for cable-lay ships means that MAATS is one of the few firms in the offshore supply chain that has grown through the downturn. It recently made the UK Sunday Times / Virgin "Fast Track 100" table, which ranks British private firms with the fastest-growing sales – the "best and brightest emerging from the UK," according to sponsor Sir Richard Branson.
Bell says that MAATS is already working on bigger, cost-saving equipment: the more cable a carousel holds, the less often the cable-layer ship has to drop the bitter end, return to port to resupply, pick up the end of the cable again and restart. Every resupply cycle costs time and money, so more carousel capacity makes projects less costly. But bigger carousels also have implications for deck loads, structural strength and stability – so MAATS' engineering expertise will be important as these vessels get larger.