LNG-Fueled "Shore Power" Generator Reduces Emissions in Port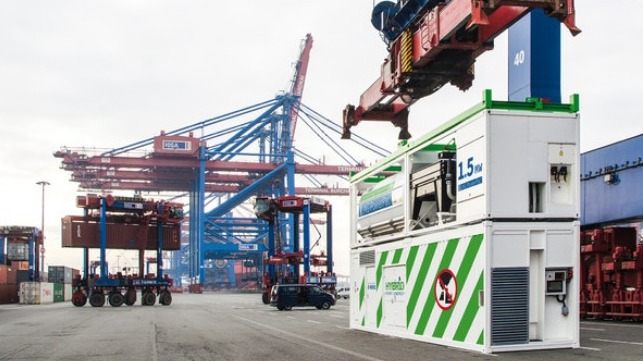 A terminal operator in Hamburg is testing an LNG-fueled generator that allows ships to turn off their auxiliary engines during cargo operations. Becker Marine Systems, Hapag-Lloyd and Hamburger Hafen und Logistik AG (HHLA) have been testing the new technology as part of a joint pilot project since the start of the year.

Becker developed the mobile power generator and partnered with Hapag-Lloyd and HHLA for the test phase. The Becker LNG PowerPac now supplies low-emissions power to container ships at the HHLA Container Terminal Burchardkai (CTB). Over the past few weeks, a prototype has been successfully tested multiple times with some of Hapag-Lloyd's giant 20,000 TEU container ships. The German Federal Ministry of Transport and Digital Infrastructure provided a seven-figure award to support the project.

The Becker LNG PowerPac is a compact system the size of two 40-foot containers. The unit comprises a gas-powered generator and an LNG tank. As soon as a container ship docks, a container gantry crane lifts the mobile 1.5-megawatt power generator from the quay onto the stern of the ship. It is then connected to the ship's power system and can supply the electricity needed for on-board operations while the ship is docked. Thanks to this innovation, the SOx, NOx and particulate matter that would normally be generated while the ship is running on auxiliary diesel can be reduced or eliminated.

"We can safely say that the pilot phase was a complete success, and we thank our partners for the great teamwork. The Becker LNG PowerPac represents a straightforward solution for the reduction of harmful emissions in the port and has the potential to be implemented internationally. We are in conversation with a variety of European and Chinese ports, and we are confident that the Becker LNG PowerPac can be successful on the market," said Dirk Lehmann, managing director at Becker Marine Systems.