Lindblad Ready for Another Polar Expedition Ship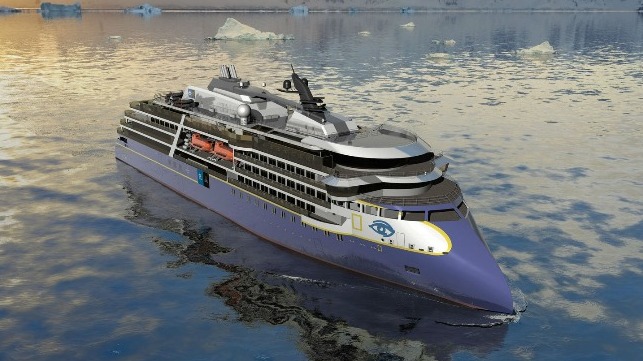 Lindblad Expeditions has announced its intention to build another new polar expedition ship. The vessel, which is anticipated to be delivered in 2021, will be the next phase of Lindblad's fleet expansion following the launch of the National Geographic Quest in July 2017, the addition of the National Geographic Venture in December 2018 and the delivery of the National Geographic Endurance in the first quarter of 2020.
The new vessels join National Geographic Explorer and National Geographic Orion.
Lindblad Expeditions celebrated the keel laying of its first polar newbuild, National Geographic Endurance, in March this year. The Ulstein-design vessel is under construction at the CRIST shipyard in Gdynia, Poland. The 126-guest vessel will have Ulstein's signature X-BOW to provide fuel efficiency while significantly improving guest comfort in rough seas; zero-speed stabilizers will also be fitted. The vessel's diesel engines meet the strict requirements for reducing NOx emissions and emissions of soot particles set in EPA Tier 4 and IMO Tier III. She will also feature expanded fuel and water tanks for extended operations in remote areas.
Her delivery in 2020 will mark the 50th anniversary year of the first-ever purpose-built expedition ship, Lindblad Explorer.
Lindblad Expeditions is a marine based expedition travel company headquartered in New York City, with marine operations based in Seattle. The company operates small ship expeditions to six continents and promotes conservation and sustainable tourism globally. Lindblad is joined by a growing number of operators targeting polar cruising.