Lift Boat Evacuated After Flooding Leads to Heavy List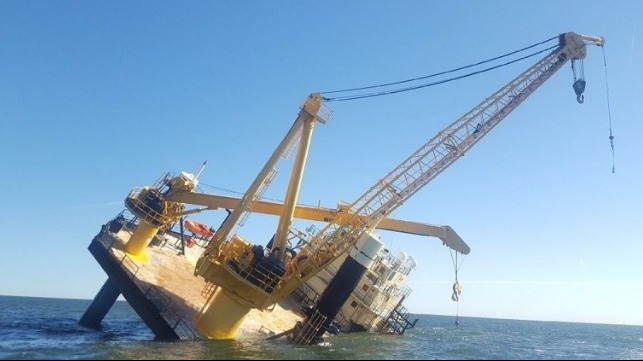 The liftboat Ram XVIII partially capsized off Grand Isle, Louisiana on Sunday, prompting the evacuation of her crew.
Coast Guard Sector New Orleans received a distress call from the 134-foot liftboat at 0315 hours on Sunday morning. The Ram's master reported that the vessel was taking on water at a position about 20 nm to the west of Southwest Pass, Louisiana, with 15 people aboard. The vessel had a 45-degree list and no power, which left the vessel unable to correct the list herself.
Sector New Orleans broadcast an urgent notification to shipping, and a good samaritan vessel, the crew boat Starfleet Guardian, responded to the call. The Guardian arrived on scene and embarked six members of the Ram XVIII's crew. A 45-foot response boat from Coast Guard Station Grand Isle arrived shortly thereafter and took on the remaining nine crewmembers, then transferred them to the Starfleet Guardian for the return to shore.
The liftboat has approximately 14,000 gallons of diesel onboard, but there are currently no reports of discharge. During the time the Ram was taking on water, a steel tank filled with soap fell over the side, causing an additional hazard to navigation, and the Coast Guard has broadcast a warning to mariners about the potential risk of a floating object in the area.
The Coast Guard Marine Safety Unit Houma will respond to the scene of the casualty. The cause of the incident is under investigation.
The Ram XVIII is a 137-foot long liftboat belonging to a Louisiana-based firm. The Starfleet Guardian is a recently-built, 200-foot crew/supply boat owned by a firm based in South Carolina.