Libyan Forces Seize Car Carrier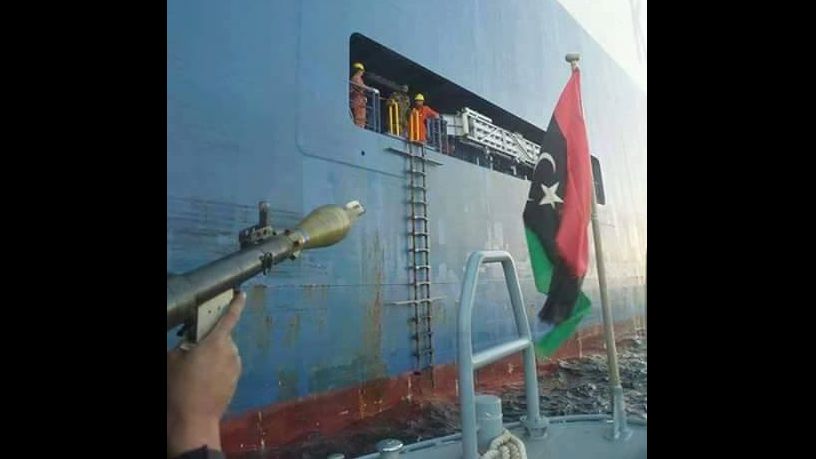 On Sunday, Libyan militia forces loyal to the warlord Khalifa Haftar boarded and seized the car carrier Morning Compass. The Eukor-operated Compass was reportedly under way from South Korea to Misrata carrying a load of several thousand cars; the militia fighters diverted the vessel to the port of Ras Al-Hilal, northeast of Benghazi.
The government of Eastern Libya told media that the vessel had strayed into a forbidden military zone and had not responded to repeated radio warnings. "We sent a boat to stop the ship and then the ship was tugged into Ras Al-Hilal port to be scoured by the navy personnel," a militia spokesman told the official LANA news agency.
This is not the first intervention in maritime commerce attributed to Haftar's Libyan National Army. His forces seized Libya's key oil terminals at Ras Lanuf, al-Sidra and Zuitina in September of last year, briefly suspending crude exports. In December, Haftar's forces threatened to bomb a Canadian humanitarian aid ship that was carrying supplies for civilians trapped by fighting in Benghazi.
Haftar is both a U.S. citizen and a long-serving veteran of Muammar Gaddafi's military forces. He participated in the 1969 coup that brought Gaddafi to power, but in the late 1980s, he began plotting to overthrow the Libyan dictator. Haftar fled to the United States, where he resided until returning to fight in the 2011 Libyan civil war.
Haftar is arguably Libya's most successful warlord in the post-Gaddafi area, and controls more territory and more oil infrastructure than any other entity in the wartorn nation. He refuses to recognize Libya's UN-backed Government of National Accord, but he has received public endorsements from Russia, the UAE and Egypt, and is believed to have covert support from other state actors.