Liberia, Bangladesh Provide Final Signatures to Bring HKC Into Force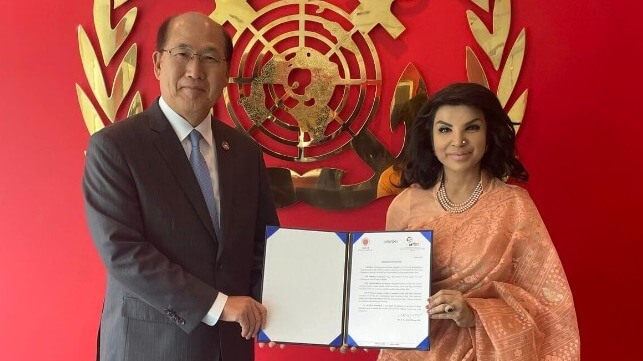 On Monday, the nations of Bangladesh and Liberia ratified the Hong Kong Convention for the Safe and Environmentally Sound Recycling of Ships, fulfilling the criteria for the treaty's entry into force. The regulation will take effect in June 2025, 16 years after it was first adopted at IMO.
The two final signatories satisfied the treaty's complex formula for approval, which effectively required the approval of the leading flag states and top ship recycling nations.
The IMO thanked the government of Norway for its help in bringing Bangladesh across the finish line. For years, Norway has funded a capacity-building program to identify national policy gaps and train shipbreaking workers for safety, accelerating local compliance with HKC requirements.
The International Chamber of Shipping (ICS) hailed the treaty's entry into force, which it has pursued for more than 10 years.
"Entry into force confirms the huge progress made in safe and environmentally sound ship recycling that has been driven by the Convention since its adoption in 2009 and realizes the globally compliant market into which ships must now be sold, giving shipowners confidence and legal certainty that end-of-life vessels will be recycled properly," said John Stawpert, Senior Manager (Environment and Trade) at the International Chamber of Shipping.
BIMCO called the ratifications a "leap" forward for safety and environmental protection, and it celebrated the treaty's long-sought passage.
"The Hong Kong Convention entering into force means that a fully sustainable ship-recycling industry is possible and within reach," said BIMCO Secretary General & CEO David Loosley. "Today is the real beginning, the work starts now. We will continue to call on shipowners to commit to choosing globally compliant yards when their ships reach the end of their life cycle."
With the support of leading cash buyers and shipowners, many Indian and Bangladeshi yards have worked to bring their standards in line with the HKC in advance of the treaty's adoption, and dozens have obtained class certification. However, workers' advocates and environmentalists note that many yards remain uncertified, including all yards in Pakistan; even at the market-leading yards which have class approval and Western backing, the degree of adherence has been at times uneven.
Advocates of access to South Asian shipbreaking have pointed to the HKC as a reason to relax the restrictions of the EU Ship Recycling Regulation (SRR), which limits European shipowners to a list of EU-approved yards. At present, all of the SRR-listed yards are in the West, where end-of-life tonnage sells for much lower prices; some also interpret the SRR as a ban on beaching, the basic operating method of all South Asian shipbreakers.
Pakistan's ship recycling industry remains an outlier in the move towards ratifying the HKC, but once the convention takes force, its yards will also be covered.