LEGO Launching Ship in a Bottle
LEGO is releasing a ship in a bottle set that will be available next month. The set has been designed by LEGO Ideas member Jake Sadovich from the U.S.
The official description of the product says it is a highly detailed ship with the captain's quarters, cannons, masts, crow's nest, flag and printed sail elements. The ship is placed inside a LEGO brick-built bottle with a buildable cork, wax seal element and water-style elements inside. It sits on a display stand featuring the ship's Leviathan nameplate, globe elements and a non-functioning compass.
Sadovich initially came upon the idea and challenge of building a LEGO ship in a bottle after having completed an actual ship in a bottle build a few years ago. He submitted his model to LEGO Ideas in November 2016.
In March last year, the shipping industry hosted a LEGO construction of a different scale. European Shipping Week featured the world's largest ship made from LEGO bricks. DFDS built the giant plastic vessel, dubbed Jubilee Seaways, with over 1,000,000 individual LEGO bricks. According to DFDS, the ship was constructed to celebrate the company's 150th anniversary. Modeled after one of DFDS' ferries, over 7,000 employees worked on the construction by assembling thousands of bricks made of 45 individual LEGO pieces.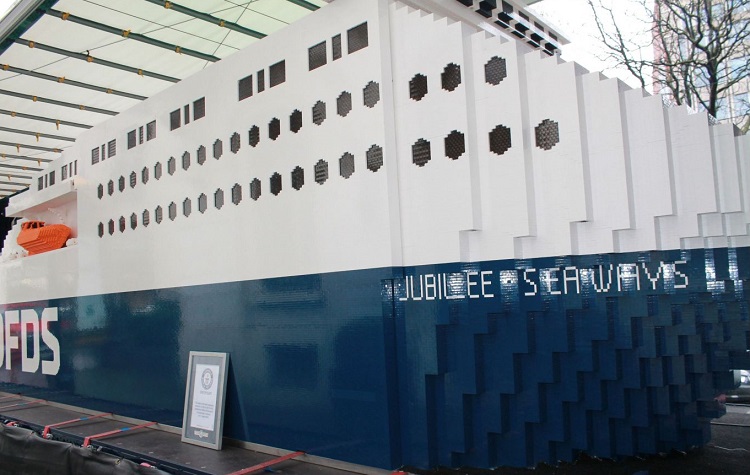 In 2015, The Maritime Executive reported that beachcombers continue to find LEGO pieces on a Cornwall, U.K., beach. On February 13, 1997, 20 miles off the coast of Cornwall, the container ship Tokio Express was hit by a wave that sent 62 containers overboard. One of them held nearly five million pieces of Lego. Lego pieces have been washing up on Cornish beaches ever since. Many of the pieces lost were nautically themed including 26,600 life preservers; 418,000 diver flippers in pairs of black, blue or red; 13,000 red or yellow spear guns and 4200 black octopuses.
The Lego Lost At Sea Facebook page was created by British writer and beachcomber Tracey Williams, who first started to discover pieces of sea-themed Lego on beaches around her family home in South Devon, England in the late 1990s.