Last Hawaiian Sugar Ship Departs California
Ships carrying sugar from Hawaii have sailed to the U.S. for more than a century, but no more.
Last week, the sugar-carrier Moku Pahu delivered 32,000 tons of sugar and 2,000 tons of molasses and then sailed away from the California and Hawaii (C&H) Sugar Company refinery in California for the last time.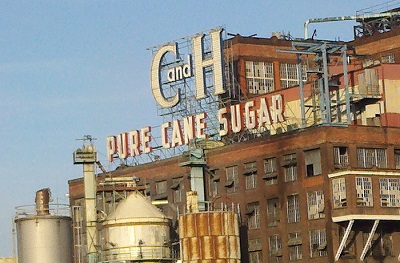 The company was founded in 1906. Its Crockett Refinery was once the largest refinery in the world, and the C&H brand is iconic. At one time, the refinery processed close to a million tons of sugar a year, mostly from Hawaii.
But, sugar prices have dropped, labor costs increased, and Hawaii's sugar mills have all now closed. These days, C&H sugar is more likely to have come from Vietnam or Brazil, and after this last cargo is processed, all of the Crockett refinery's sugar is expected to be sourced from foreign suppliers.
"It's really unfortunate as a proud American manufacturer to see less sugar coming in from the U.S.," said Peter O'Malley, a spokesman for American Sugar Refining, the company that owns C&H, reports the East Bay Times. "Low sugar prices and foreign subsidies continue to put domestic mills out of business. It's a sad day for us."
Even though the Moku Pahu will no longer make the 10-day journey across the Pacific, refinery operations will not be affected. Approximately 450 people are employed at C&H, which produces six million pounds of sugar each day, reports the East Bay Times. American Sugar Refining is not planning to change the company's name or logo.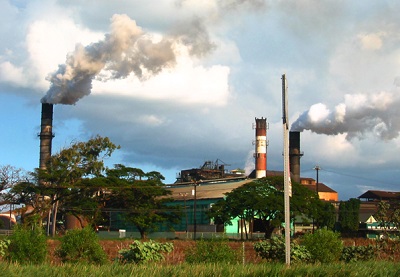 A Loss for Hawaii
Jobs will be lost in Hawaii. Last year, citing a loss of profitability, the Hawaiian Commercial & Sugar Company harvested its last Hawaiian sugar cane crop. The company, founded in 1870, lost $30 million in its last year of production. The closure of the 36,000-acre plantation meant the loss of 650 jobs, and lands still owned by the company will be converted to other crops, such as sorghum and biofuel crops.

The sugar industry was a fundamental part of Hawaii's history and development. Workers from the Philippines, China, Korea and Japan worked alongside the Caucasian descendants of missionaries, and helped create the island's unique culture.
Not A Typical Bulk Carrier
While the Moku Pahu looks like a bulk carrier and is equipped with three cranes and six gigantic cargo holds, she is actually a tug and barge with the tug having catamaran-like hulls. The barge fits between the hulls and slides into a notch that locks it in place.
The barge was built in Maine in 1981, and the Moku Pahu tug was built in Alabama in 1982. The whole ship is 685.5 feet long and 139 feet from the keel to the ship's tallest point. She has two engines and is capable of transporting nearly 40,000 tons. She has a crew of 15.
The Moku Pahu has always been home-ported in Hawaii, but she has not always carried sugar. She has carried grain to North Korea, and also voyaged to Russia, Pakistan, Bangladesh, the Philippines and Djibouti.
The future of the Moku Pahu is uncertain.