Largest Unmanned Naval Systems Exercise Begins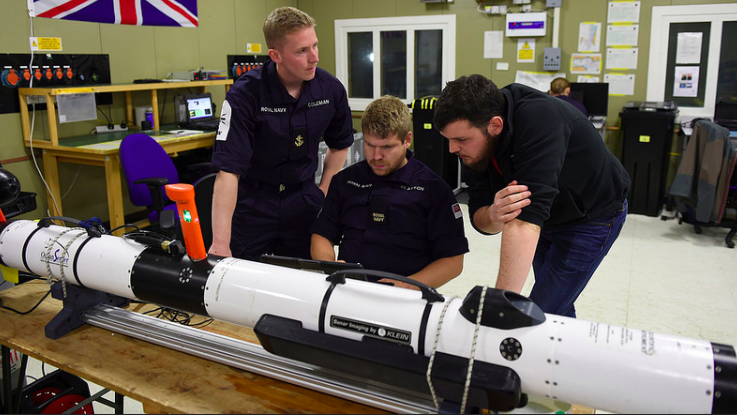 This week, the world's largest exercise for unmanned vehicles in the marine environment begins in waters off north-west Scotland. Unmanned Warrior 2016 is the first ever event of its kind, and the UK Navy has invited over forty government and research organizations to participate.
The United States Navy's Office of Naval Research is a major contributor to the event. ONR will use UW16 as an opportunity to test 10 technologies, including the Lidar package for its SeaHunter unmanned aerial vehicle, a new shore perimeter security system, and an array of mine countermeasures systems.
"These systems can help protect our Sailors and Marines from some of the Navy's dull, dirty and dangerous missions, like mine countermeasures . . . Additionally, these systems can increase our capabilities at a more affordable cost of the conventional systems we currently employ," said Chief of Naval Research Rear Adm. Mat Winter. "Autonomy will enable our naval forces to stay longer, see farther, understand more, decide faster, do more, adapt more quickly and when necessary be more lethal."
Multinational collaborative exercises are a main focus of the event, which will help researchers evaluate the ability of different systems to communicate and operate as a unified force.

Among other joint tasks, mine-hunting robots will be deployed on a test range set up by defense contractors QinetiQ. The robots will be tasked with beating the performance of professional Royal Navy minehunting crews in locating dummy mines. "Several Royal Navy mine hunters will also be trying to [find the mines]. So this will be a very direct test of new systems against old," said RN spokesman Lt. Commander Clive Langmead. "The mine hunters already use remotely piloted submarines in their work, but Unmanned Warrior is hoping to show things can be taken a stage further."
To coordinate the actions of so many diverse unmanned vehicles, QinetiQ has developed a modular command and control center designed to interface remotely with multiple devices. The firm says that its system is designed to work with unmanned vehicles supplied by many manufacturers; Thales, Seebyte and BAE partnered in its creation. For Unmanned Warrior, QinetiQ's QMAC control center is deployed on the civilian offshore supply vessel Northern River.
Unmanned Warrior is being held as part of Joint Warrior, a naval exercise held twice each year for NATO and allied nations. Nearly 6,000 personnel, over 30 warships and 70 aircraft will participate in joint maneuvers off Scotland during the drill. QinetiQ says that an array of Joint Warrior maneuvers will be supported by Unmanned Warrior systems.