Larger Boxship Sails NSR, Expanding Russia-China Trade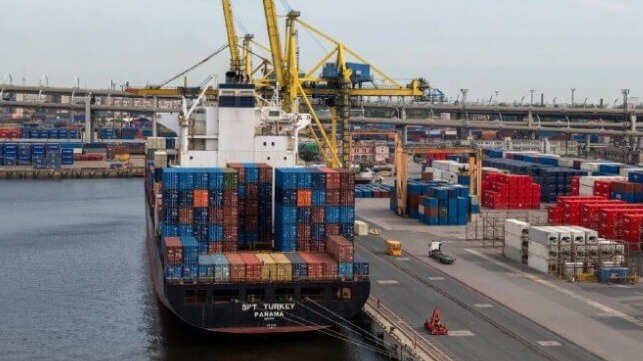 Demonstrating the expanding trade relationship between Russia and China, a larger containership made its first port call in Saint Petersburg from the newly established weekly service between the two countries using the Northern Sea Route. The SFT Turkey (50,800 dwt) arrived for the first time at the container terminal in St. Petersburg and is now preparing for a return trip via the Arctic to China.
The vessel, which was built in 2003, had been operating for CMA CGM before it was acquired earlier this year by Safetrans Shipping, a company registered in Hong Kong in 2011 and which specializes in shipping to Russia. Renamed SFT Turkey, the ship is 853 feet in length and has a capacity of 4,250 TEU, making it the company's largest vessel. The ship is registered in Panama.
According to the report from Global Ports which operates the St. Petersburg terminal, the ship was carrying a variety of unspecified goods from China. After offloading they are saying it took on containers with Russian goods for the return trip. The vessel moved to the St. Petersburg anchorage on August 28.
It is part of the new service which started at the beginning of July. The first vessel sailing on the route was the NewNew Polar Bear (15,952 dwt) which was acquired earlier this year by a new Chinese shipping company, Hainan Yangpu NewNew Shipping Co. The ship registered in Hong Kong is 554 feet long with a capacity of 1,600 TEU.
NewNew Polar Bear began the expanded trade service sailing the Northern Sea Route in July (Global Ports)
The first trip loaded Russian export goods, including wood products, and departed St. Petersburg on July 7. The vessel is ice classed giving it the ability to use the Northern Sea Route which according to officials has the potential to reduce the transit time by up to approximately 40 percent. Taking an estimated 28 days depending on ice conditions, the northern route is permitting an increase in the frequency of the trips and expanding the amount of goods being transported. Previously, the ships were taking the route through the Suez Canal which requires between 45 and 50 days between China and Russia.
For the 2023 navigation season, the plan calls for four vessels transiting the Northern Sea Route. In Russia, they are making calls in St. Petersburg and Kaliningrad. In China, the ships are calling at Qingao, Tianjin, and Shanghai.
The SFT Turkey adds capacity with the ability to transport more containers. The ships from the Chinese line Hainan Yangpu NewNew Shipping have a capacity between 1,600 and 3,500 TEU.