KiwiRail Signs On to Inflatable-Lifeboat Revolution
New Zealand ro/pax ferry operator KiwiRail will be the first passenger vessel owner to install and use a new form of lifesaving device, the Viking LifeCraft.
KiwiRail carries about 800,000 passengers per year across the Cook Strait between New Zealand's North Island and South Island. It is in the process of ordering two replacement vessels for the route from Hyundai Mipo, which is currently working on the detailed design. KiwiRail and Hyundai Mipo settled on LifeCraft as the primary evacuation system for the new vessels, which will be the first to carry the novel device.
LifeCraft marries four 200-person inflatable survival craft with marine evacuation system (MES) slides and all-electric propulsion (courtesy of Torqueedo). Its launch operations are automated and digitized, including function checks, simplifying drills and procedures. All the components fit into a single unit, which can be fitted on deck or built into the side of the hull.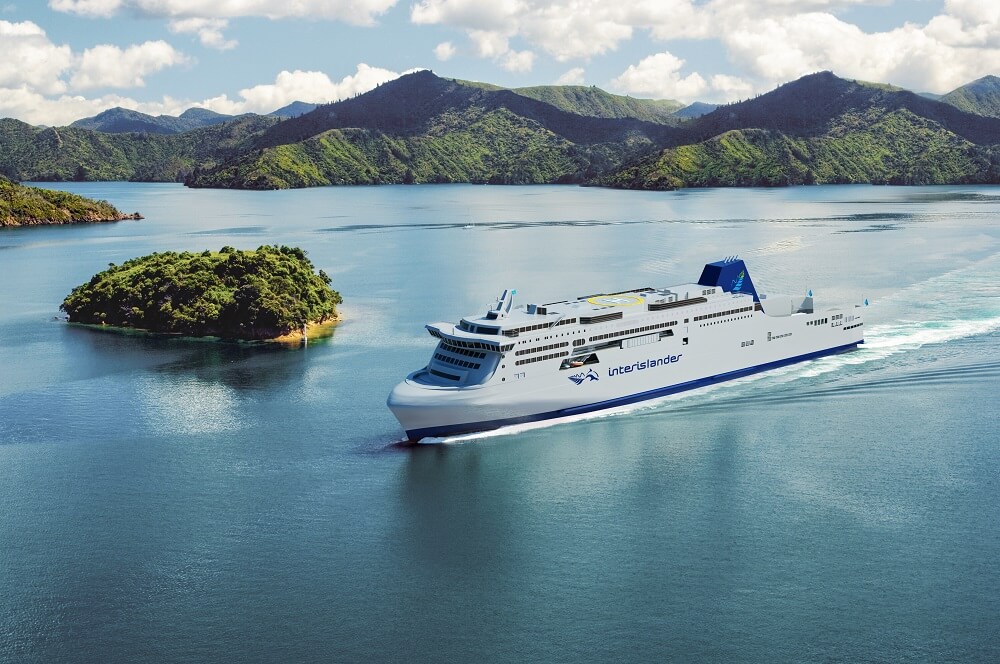 KiwiRail's new Interislander design, with no sign of orange lifeboats amidships (KiwiRail)
The compactness of the LifeCraft unit is among its most attractive attributes for shipowners. Emergency survival craft are critical equipment, but thanks to advances in overall maritime safety, the overwhelming majority of passenger vessels will never encounter a situation where lifeboats are required. For the full lifespan of most passenger ships, the boats wait on their davits, taking up prime real estate amidships. Inflatable designs come in a much more compact package, freeing up valuable deck space for revenue-generating use or passenger amenities.
"The integration of safety systems is paramount in the ship-design process, which means that it at times will be a priority at the expense of aesthetics or comfort. This system makes this trade-off irrelevant by offering a solution that – apart from being a state-of-the art safety system – also is both practical, light, and visually appealing," said Anders Ørgård, CEO of design company OSK-ShipTech, which is working on the new KiwiRail ferries.
A competing inflatable lifeboat design, the Survitec Seahaven, may soon be installed on Norwegian Cruise Line's next series of newbuilds. In April 2022, Survitec announced a partnership with NCL, consultancy Maritime Advisors Ltd. and a leading shipbuilder to design Seahaven into a cruise ship, freeing up valuable lifeboat deck space and speeding up evacuation.
Crew safety
As a bonus for the crew, automated inflatable lifeboat systems increase seafarer safety by eliminating the hazards of the mandatory lifeboat drill, which all too often ends in a dangerous fall from height. At one point in the 2010s, lifeboat drills accounted for one sixth of all seafarer fatalities, according to UK P&I - and the problem has not gone away.
Last week, the Container Ship Safety Forum called for the adaptation of passenger-vessel MES systems like Seahaven and LifeCraft for cargo vessels, citing the dangers of conventional lifeboat launch procedures.
"Everyone knows we have a problem. . . . Launching a lifeboat is too dangerous," said Aslak Ross, Chairman of the CSSF. "[Marine Evacuation Systems] should also be made available to cargo vessels without delay. It is long overdue to change the current environment and innovate to eliminate the risk of lifeboat accidents. We need approved systems that can be fitted to newbuildings – we need to safeguard our seafarers."