Kerch Strait Incident Impacts Ukrainian Seaports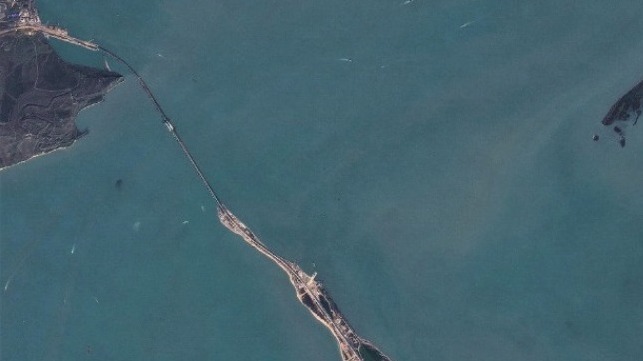 Ukraine's government says that shipping has come to a near-halt at the ports of Mariupol and Berdyansk, which have been cut off by delays at Kerch Strait following last weekend's altercation between Russian and Ukrainian forces.
According to Ukrainian infrastructure minister Volodymyr Omelyan, only ships bound for Russian ports on the Sea of Azov are being allowed to pass through the strait. Vessels headed for Ukrainian ports on the sea are still being blocked, he alleged. Omelyan said that 35 ships are presently affected, including ships that are outbound from the Sea of Azov or waiting at the pier. Independent news reports from Berdyansk indicate that no merchant vessels have arrived in the port since the altercation occurred.
Commercial AIS tracking data shows about two dozen vessels stopped or anchored just south of the Kerch Strait Bridge, and scores more waiting on the north side of the strait - including many Russian-flagged vessels.
"The actions of the Russians are clearly aimed at escalating the crisis in the Azov sea and to destabilize the region," Omelyan said. "The goal is simple - by placing a blockade on Ukrainian ports on the Sea of Azov, Russia hopes to drive Ukraine out of our own territory - territory that is ours in accordance will all relevant international laws."
Russia's Federal Agency for Maritime and River Transport denied Ukrainian reports of a blockade, and suggested that any delays were due to a weather-related pilotage issue. Moreover, the agency alleges that there haven't been any vessels headed for Mariupol since Monday.
"No limitations, or, moreover, bans have been introduced for vessels transiting the Kerch Strait," a Rosmorrechflot spokesperson told SeaNews. "However, due to the weather and wave conditions, not all of the ships that require pilotage can have pilots delivered to them, so their masters are waiting for the weather to improve at the anchorage."
Kerch Strait incident
On Sunday, the Ukranian Navy accused Russian forces of opening fire on three of its ships near the Kerch Strait, causing damage and injuring six crewmembers. In a statement, Russia's Federal Security Service confirmed that Russian units captured the three vessels, and said that Russian forces are providing medical assistance to three Ukrainian sailors who were injured in the exchange.
The vessels involved were the Ukrainian patrol boats Berdiansk and Nikopol and the tugboat Yany Kapu. The vessels have been reportedly brought to Kerch, a port city in Russian-occupied Crimea, and Russian authorities are holding their crewmembers pending prosecution.
EU leaders have called for Russia to return the captured vessels and to respect international law regarding freedom of navigation. In addition, U.S. President Donald Trump has canceled a previously-scheduled meeting with Russian President Vladimir Putin at the upcoming G20 summit, citing "the fact that the ships and sailors have not been returned to Ukraine from Russia."